"She was the first character on television that I truly saw myself in."
Olivia Benson from Law & Order: SVU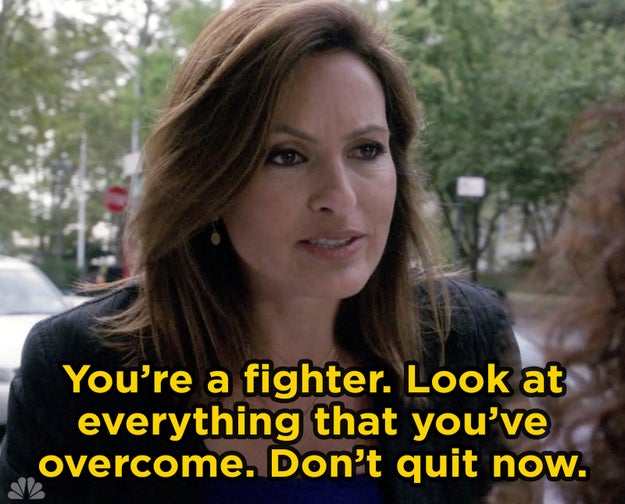 "I changed my major to criminology because of Olivia Benson. I am now working toward my masters so I can one day counsel paroled and incarcerated women. Because of her, I am an advocate for No More and will be a voice for those who are not heard."
—Harley Walker, Facebook
NBC
Jessica Jones from Jessica Jones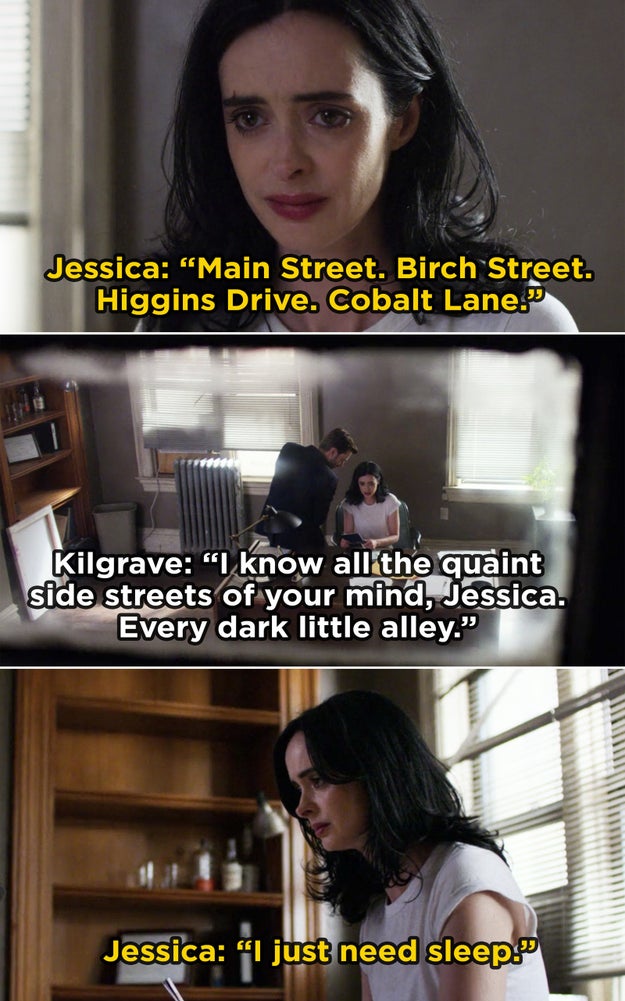 "As a woman with PTSD, I was drawn to her and was relieved to find a female character who calls out sexism, doesn't apologize for her personality, and fights for others who have been victimized. Jessica is strong and defiant, which is exactly what I strive to be."
—akadiscospider
Netflix
Cristina Yang from Grey's Anatomy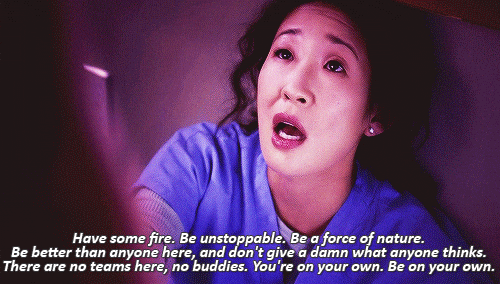 "Her badass, no-nonsense ambition was beautiful to see on television. I'm 14 years old and planning to be a doctor because of her."
—jabberbox1234
ABC
Buffy Summers from Buffy the Vampire Slayer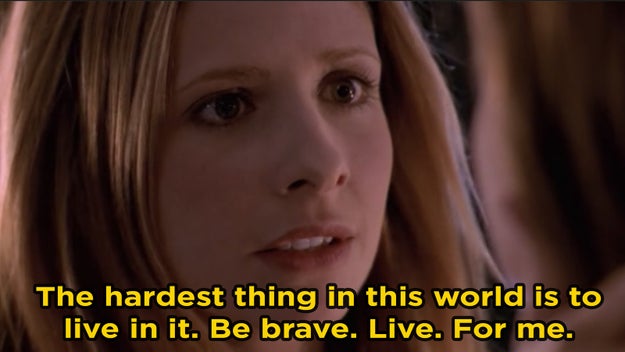 "Watching Buffy struggle with loneliness, depression, heartbreak, and loss, and always come out on the other side has inspired me to keep hanging on during my darkest moments. After the presidential election broke my heart, I binged Buffy to remind myself how powerful and incredible women are."
—samh4483d088d
NBC
Olivia Pope from Scandal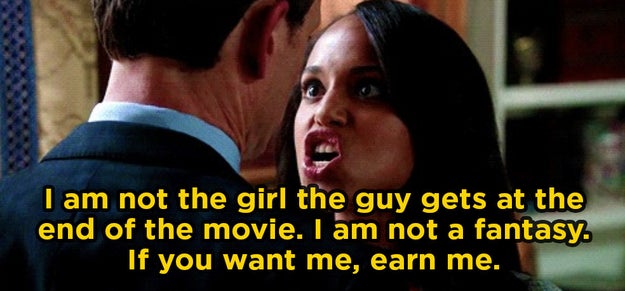 "She taught me that women are just as strong as men, and she showed me how to stand up for myself."
—jodiepotter0
ABC
Rosa Diaz from Brooklyn Nine-Nine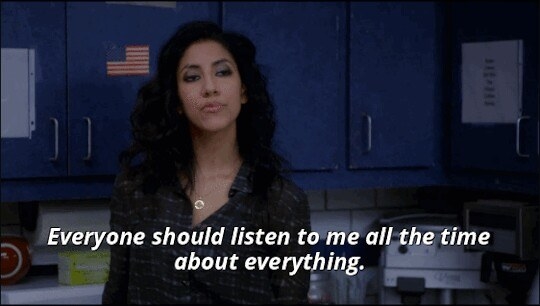 "She inspires me because she doesn't let anyone tell her what to do and I aspire to have that level of confidence. She doesn't have a reason for being badass, she just is."
—ava123cool
Fox
Callie Torres from Grey's Anatomy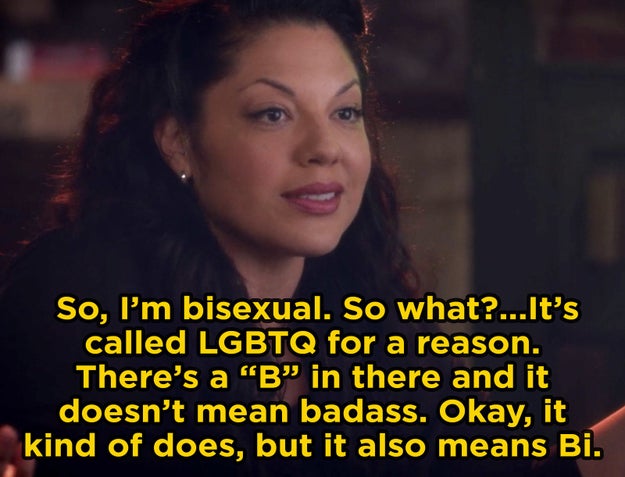 "I started watching Grey's Anatomy when I was around 10 years old before I had even heard the term "bi," and she was the first bisexual character that I had seen. Callie was part of my coming out story."
—lightheart16
ABC
Kate Pearson from This Is Us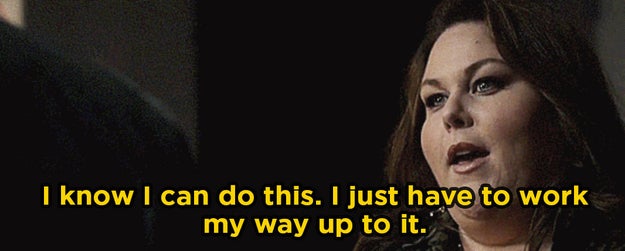 "She has taught me both to embrace my size and to appreciate my flaws by reminding me that flaws and insecurities are actually a gift. I can't even begin to thank her."
—samp4cffd8a5a
NBC
Jane Villanueva from Jane the Virgin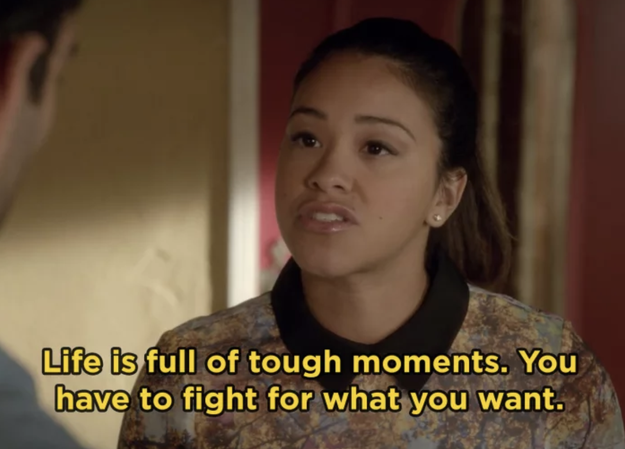 "She inspired me to make amends with my estranged mom who I hadn't talked to in years. After seeing the love between Jane and Xiomara and how Jane reconnects with her even after she betrayed her trust, I immediately called my mom."
—leorah
The CW
Leslie Knope from Parks and Rec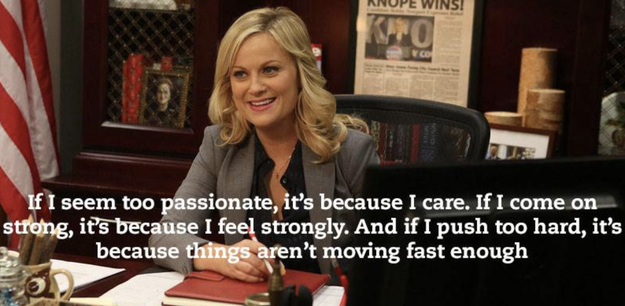 "Like Leslie, I also work in government and seeing her be so driven and focused on projects inspires me. Working in government can be discouraging, but Leslie gives me strength to keep fighting the good fight."
—f493d45309
NBC
Veronica Mars from Veronica Mars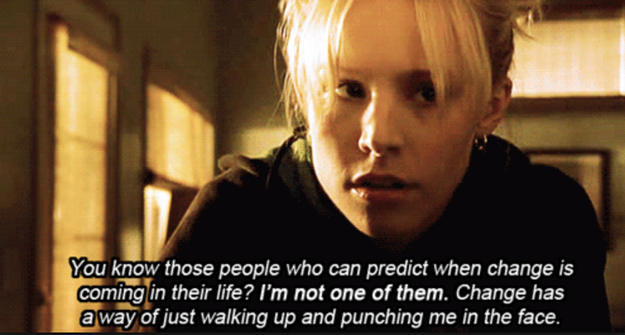 "She showed up at the lowest point in my life. I was a little girl with no friends, the target of mean rumors, and a survivor of sexual assault. Veronica showed me that I wasn't alone and that I could be the coolest girl ever in spite of people's cruelty. She changed my life."
—monroe
The WB
Raven Reyes from The 100
"I wear a knee brace everyday and will for the rest of my life, and seeing a girl my age be badass and smart and sexy while wearing a brace makes me feel much less self-conscious about wearing mine."
—sierrao44a157429
The CW
Poussey Washington from Orange Is the New Black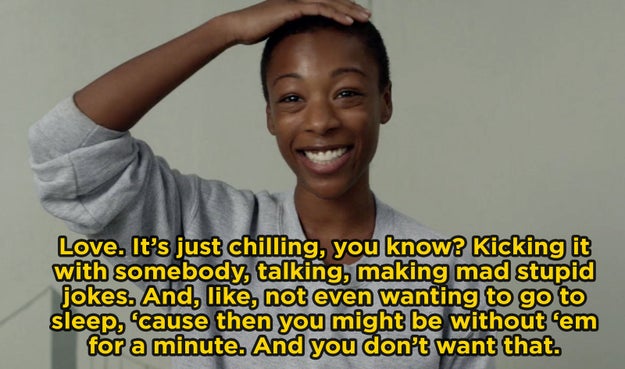 "She was my first female crush ever, and she helped me realize I was bisexual. She had this incredible blend of femininity, toughness, and silliness. She let herself be tough, but also vulnerable."
—cryaprl
Netflix
Kimmy Schmidt from Unbreakable Kimmy Schmidt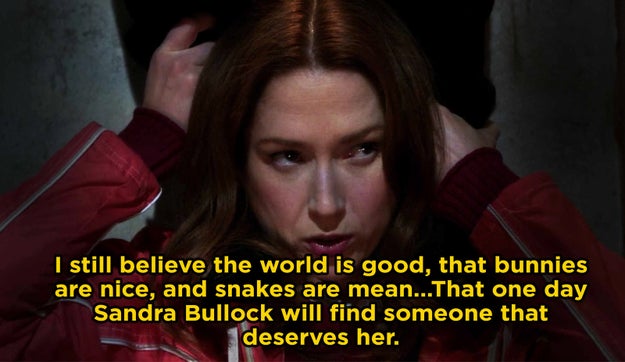 "Her character helped me through my depression. She made it through something traumatic, but turned her life around and made the best out of it."
—mseaberg
Netflix
Brooke Davis from One Tree Hill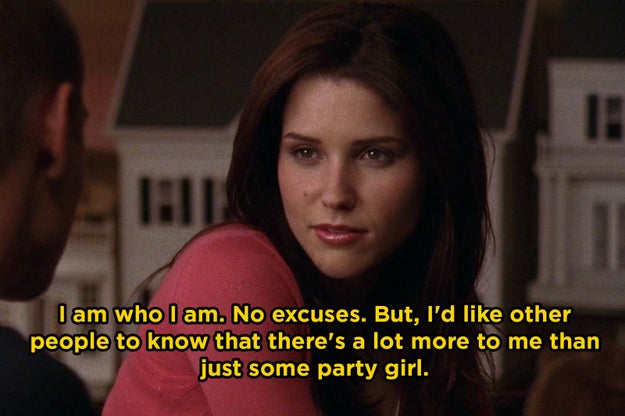 "She showed me that your past doesn't define you, and neither do traumatic experiences. The moments you've lived through only mold you to be a better person. I was going through a really insecure time in life, and watching her get everything she ever wanted really helped my self-love journey."
—amberb40f6d65b5
The CW
Rebecca Bunch from Crazy Ex-Girlfriend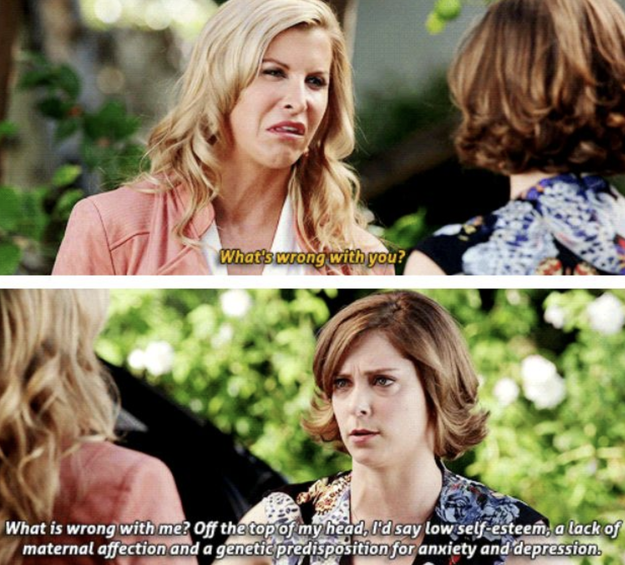 "She inspired me to come to terms with my mental illness and to take the steps to deal with it. I'm grateful to see a female character on TV that struggles with mental illness in a real and honest way."
—sleepyw
The CW
Elena, Penelope, and Lydia from One Day at a Time
"These women make up three generations of the toughest, strongest, and most passionate TV character's I've seen. They are real and have their flaws, which is why I'm inspired by each of them."
—sararonai
Netflix
Kate Beckett from Castle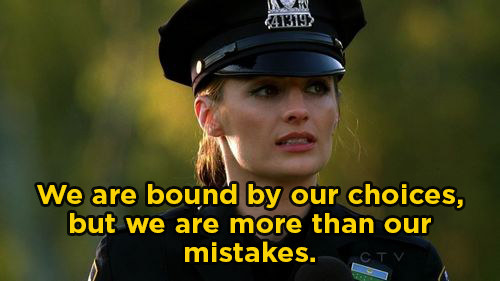 "I was in a dark place where I felt like I couldn't overcome my mental health challenges, but Beckett helped change that. She went through so much that inspired me to keep going when things were rough. She inspired me to become a criminal justice major and to fight for what I believe in."
—charlotteh4378e2207
ABC
Brienne of Tarth from Game of Thrones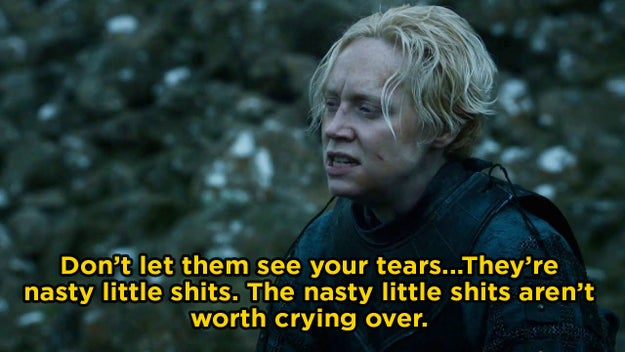 "I've always been a little self-conscious about being a curvy woman with a strong personality, but watching Brienne makes me feel proud to look and act just like her."
—maddsb
HBO
Dr. Mindy Lahiri from The Mindy Project

"She was the first character on television that I truly saw myself in. She was a smart, funny, woman of color. Mindy inspired me to be myself."
—makaylab4e6870608
Hulu
Claudia Donovan from Warehouse 13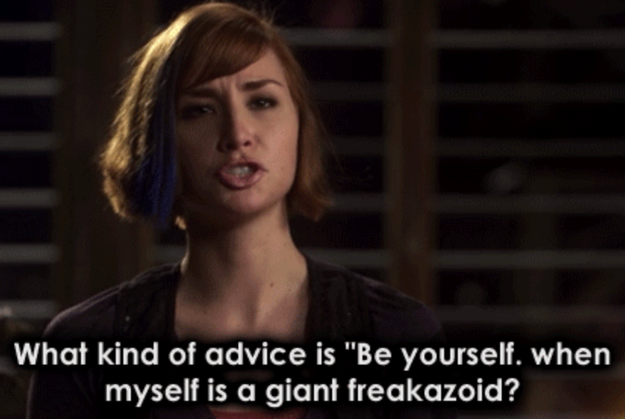 "I don't think I would've made it through my high school years without her. Claudia struggled to find herself and where she belonged, but as the show progressed she blossomed into such a confident, witty young woman. Watching her grow but also stay true to who she was made me feel okay about being a little quirky too."
—alyssaj47077af10
SyFy
Lilith Sternin from Cheers and Frasier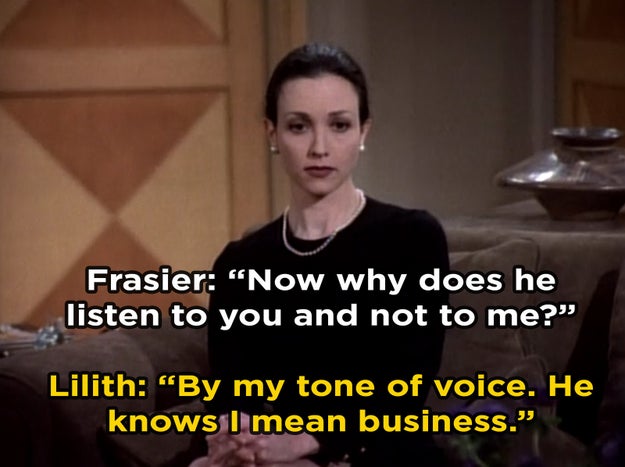 "Bebe Neuwirth's performance taught me that women can be hilarious, unique, and uncompromising. Lilith was smart as hell and had an unmatched dry wit, but her character still made mistakes and showed a vulnerability that made her extremely relatable."
—jamiejirak1
NBC
Jo Wilson from Grey's Anatomy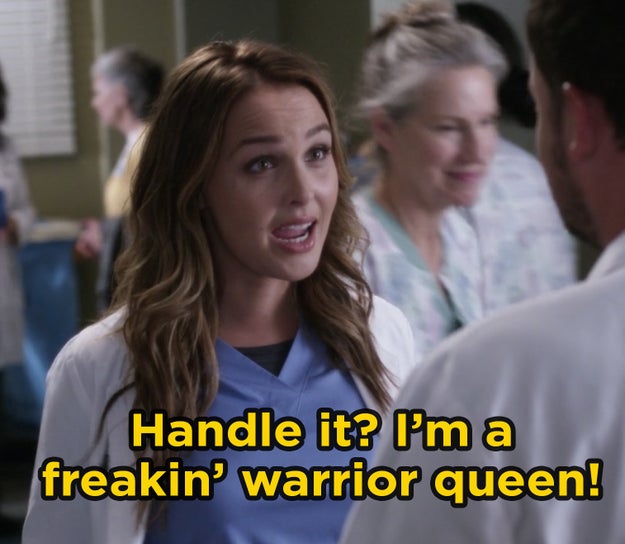 "She reminds me that it's not what happened in your past that matters, but rather what you do with it. I've struggled a lot with letting my past define who I am in the present, and she's really shown me that if you work hard in life and are nice to people, good things can happen and real happiness is achievable."
—musicislyfe103
ABC
Fiona Gallagher from Shameless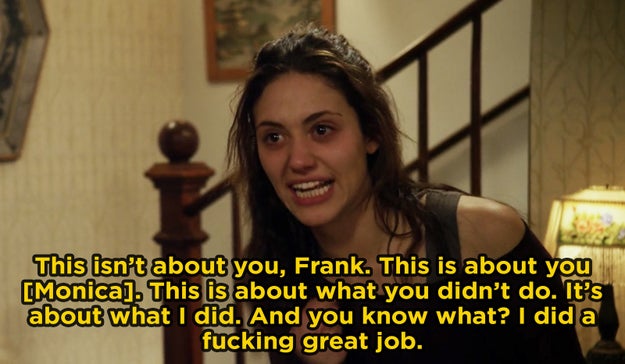 "Coming from a very similar family situation, she showed me that it's okay to put yourself first and try to better the situations you're born into. She isn't afraid to try and improve herself while still taking care of her family."
—angelag4e427edbe
Showtime
Lorelai Gilmore from Gilmore Girls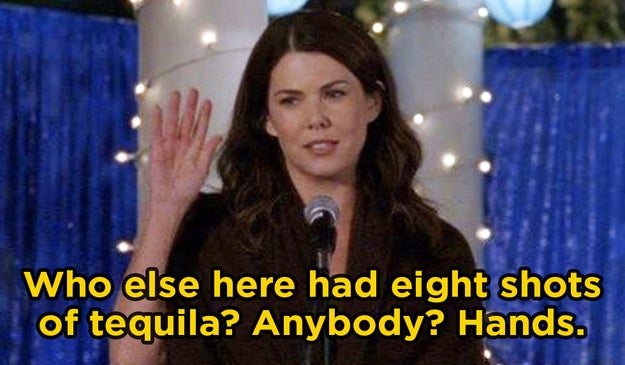 "Growing up, I always saw her as the ultimate powerful woman. She owned herself, her life, and her body, and she wasn't afraid to be passionate about the things she loved. The fact that she wasn't perfect made her even more relatable to me."
—anoukvanderz
Warner Bros.
Jessica Fletcher from Murder, She Wrote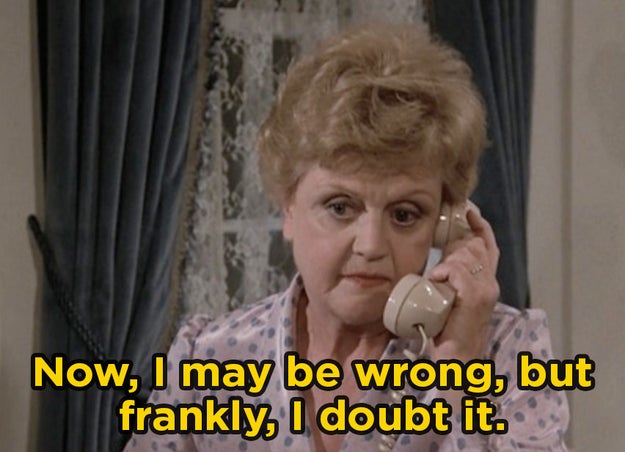 "She showed me how much I have to look forward to in life. Seeing an older woman on television with such a full existence helped me to think about what I really value and what is going to make me happy in the long term. She helped me figure out the kinds of things I want to accomplish throughout my life."
—luvalatte
CBS
Sutton Brady from The Bold Type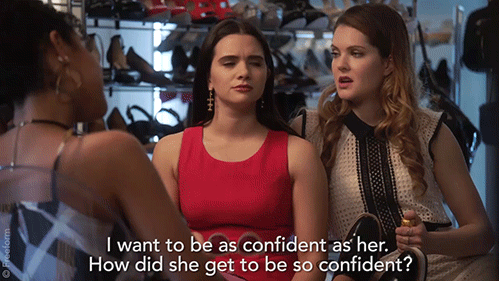 "She made me realize that it's okay to not have life perfectly figured out. Like Sutton, I've stuck with my receptionist job because I'm afraid to step out of my comfort zone and fail. She's now reaching for her dreams and it gives me hope. I hope I can be confident like her one day."
—brittanyg4baf9d707
Freeform
Claire Randall-Fraser from Outlander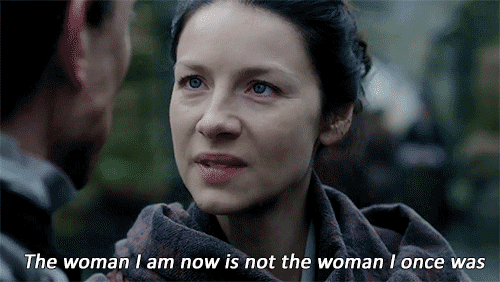 "She's strong, brilliant, and independent. No matter how many men try to get in her way, she fights back. Her relationship with Jamie showed me what a true partnership should be like. If I can be half as fierce as Claire, I know I can do anything I set my mind to."
—carlyg426063b05
Starz
Twitter: @jesileighs / Via Twitter: @jesileighs
Note: Submissions have been edited for length and/or clarity.