"Season 7's theme would be belief and it would be fighting for things you believe in, no matter what."
At this year's Comic-Con, BuzzFeed spoke with the cast and creators of Once Upon a Time to discuss what the series has in store for Season 7.
For those unaware, only three original cast members — Regina (Lana Parrilla), Captain Hook (Colin O'Donoghue), and Gold/Rumple (Robert Carlyle) — will be returning, which will definitely impact their characters love stories. Here's what we know:
Cinderella and an adult Henry have a child. (Watch them interact in the teaser below!)
Henry (Adam J. West) and Cinderella (Dania Ramirez) will have a daughter named Lucy (Alison Fernandez), who arrives in Seattle's fictional Hyperion Heights to convince her father (who has been put under a new curse, along with Regina, Hook, and Gold) to believe in fairytales and magic again.
"I do love the fact that we get to tell a parallel love story, a love story that exists within the real world as Jacinda and older Henry, in the real world where she has a daughter and what that kind of entails and how we're going to end up falling in love there. And then the love story that happens with Cinderella and the Stepmother and her wanting to leave and Henry, you know, about to leave everything behind because he hasn't found his story."
The new season will feature a "prominent" LGBT love story.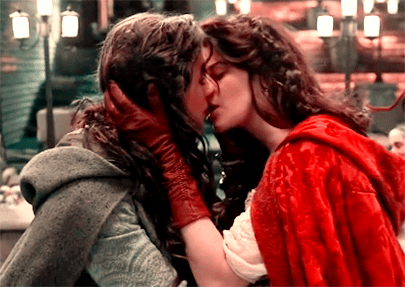 It's not the first time that LGBT characters have been featured on the ABC show. Ruby and Dorothy had a relationship back in season 5 and shared true love's kiss, while Mulan fell in (unrequited) love with Princess Aurora. However, fans were still unsatisfied because they were minor characters.
ABC
---