FromSoftware just announced a major expansion for most people's 2022 Game Of The Year, Elden Ring, is in development. It's called Shadow of the Erdtree.
The announcement was made via Twitter:
Rise, Tarnished, and let us walk a new path together. An upcoming expansion for #ELDENRING Shadow of the Erdtree, is currently in development. We hope you look forward to new adventures in the Lands Between.
As well as on the game's official site, where it was also announced that, as you'd expect, the expansion is coming to PS4, PS5, Xbox One, Xbox Series X|S and PC.
And…that's it! That's all that was announced. Just the title, the platforms and that single piece of art. Please feel free to wildly speculate about the size, focus and content of the expansion until further notice.
G/O Media may get a commission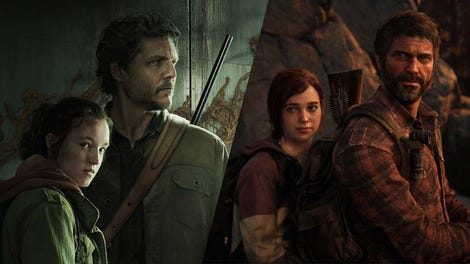 10% off
The Last of Us Part 1 (PC Steam Key)
Watch the show, play the game
If you're intrigued by the new show starring Pedro Pascal as Joel and Bella Ramsey as Ellie, consider picking up the source. The 2013 survival horror game recently got a full-on remake for the PS5 with The Last of Us Part 1 and now it's coming to PC as well. You can pre-order the Steam version of the game for 10% off from most Green Man Gaming which is set to release on March 28.
Oh, and the image up top had to be slightly cropped; here's the full illustration:
---
READ MORE:
2022 Was the Year Of Elden Ring
2022 was the year of Elden Ring, of Miyazaki, of Malenia. The highly anticipated FromSoftware title held the industry by its throat for months, dominating the conversation around difficulty, damage scaling, and player builds (including everyone's favorite nepo baby, Elon Musk). It took over streaming, it renamed every animal 'dog,' it created legends. 
After over a decade of FromSoftware games holding court as the quintessential 'git gud' franchise, locking those of us without a masochist bent out of the discourse, Elden Ring's open world opened up the gates for an entirely new player base. As such, it catapulted the work of Hidetaka Miyezaki to entirely new heights: Elden Ring is by far the best-selling FromSoftware title, it's snatching up GOTY awards like Rowa Fruit, and it's still generating passionate conversations 10 months after its release.
By subtly divesting from the tried and true FromSoftware formula and giving us a game unshackled by a single, punishing, linear path, Elden Ring offered up the Lands Between on a beautifully ornate (but slightly Tarnished) silver platter. And we gobbled that shit up.