Immediately after Nintendo wrapped up its 40-minute Direct presentation with a look at the upcoming side-scroller Super Mario Bros. Wonder, fans across the internet have been posting about how much they love the mustachioed plumber's new form that turns him into a giant elephant man.
Bayonetta 3's Family-Friendly Naive Angel Mode Would Work Better In Other, Grosser Games
Read More: Nintendo's Next Mario Game Is Here And It's Not What You Expect
Launching on Nintendo Switch on October 20, Super Mario Bros. Wonder is the latest 2D side-scrolling adventure for the overall-wearing jumpman. Showing Mario and the crew stomping Goombas and grinding rails, the game features familiar game mechanics for the old-school line of games, except with new consumable power-ups, like the Wonder Flower that unleashes the whimsy of the game's world by bringing things like blocks and pipes to life. But the one new item that has captured the internet's attention is a little tomato-looking power-up that resembles an elephant's face. Once Mario gobbles it up, he metamorphoses into a red-shirted mastodon that'll totally fuck enemies up. It's a total 180 from Mario's days as a cat.
Nintendo
It's this Elephant Mario that the internet is in love with. While Twitter user RubberNinja said they felt "uncomfortable" seeing Mario transform into an elephant, specifically because the "porn is gonna be so fucking weird," the rest of Twitter is memeing the ironic Nintendo character's new look. There's art that folks managed to whip together faster than I could type this blog, like Elephant Mario with his dick out and comic strips of Luigi calling the form "unsurprising." But mostly, people are riffing off of how silly and unexpected elephant Mario is. And some in the trailer's comments are dying to see other characters, like Daisy and Peach, turn into a tusker, too.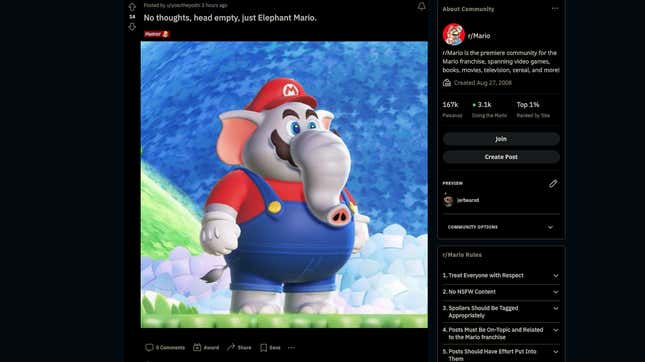 I can understand why folks are enamored by Elephant Mario. It's one of his first new forms since maybe Cat Mario in Super Mario 3D World. Of course the internet would lose it shit seeing Mario become a Giga Chad that folks online say is built like Family Guy's Peter Griffin. And the way Elephant Mario yeeted that sleeping Goomba in the trailer is priceless. I cackled. But Super Mario Bros. Wonder wasn't the only Mario game Nintendo revealed.
Read More: Beloved Classic Super Mario RPG Gets A Remake Fans Have Wanted For Years
There's an untitled Princess Peach game coming to Nintendo Switch, a remaster of the 3DS game Luigi's Mansion: Dark Moon, some new DLC for both Mario Kart 8 Deluxe and Mario + Rabbids: Sparks of Hope, and a remake of the beloved SNES classic Super Mario RPG, which hits Nintendo Switch on November 17. Mario fans will continue eating pretty good after the official movie broke records.