In August 2022, Epic Games—developers of Fortnite, custodians of the Epic Games Store, creators of the Unreal Engine, rich as God—published a melee-based battle royale game called Rumbleverse. It is now January 2023 (February already for me here in Australia), and the game is already being killed off.
Here are some impressions written by Zack in September 2022—you might remember September 2022, it only just happened—in which he said that, despite the battle royale genre getting a little tired and Epic themselves already having Fortnite, it was pretty good!
Even though I sort of suck at Rumbleverse and I find its challenge system a bit anemic at the moment, I'm still excited to load it back up and play some more. There are so many good (and bad) battle royale shooters out there in 2022. But a really good, colorful, and exciting wrestling-themed battle royale—with solid body shape diversity, no less—is a nice thing to have. I hope the game sticks around and gets future seasons with more content, quests, and challenges that can help make the game even more enjoyable, even for crappy fighters like myself.
Womp.
The decision to shut the game down was announced earlier today by developers Iron Galaxy:
G/O Media may get a commission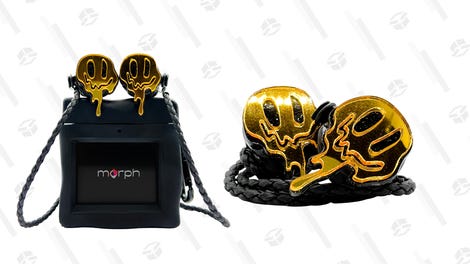 morph audio
Morph Earphones
SWAPPABLE FACEPLATES
Each set of Morph Earphones is crafted as a wearable street fashion accessory, as they come with swappable faceplates that you can switch out to change up your look at will. Choose from everything from trippy smileys to sakura blossoms and much, much more.
They followed that up with a short statement on their company site, in which they share hopes that just because Epic is killing the game off doesn't mean it's dead forever, and that "You may not yet have seen the Rumble in its final form":
At Iron Galaxy, we believe very strongly in the value of bringing people together to share meaningful experiences in games. Every single one of us is a gamer. It's what motivates us to create. With the announcement of the sunsetting of Rumbleverse, we want to share a more personal note with the players who have joined us in Grapital City.

When you work on a video game, you imagine the community that will show up to play it someday. For years, we dreamed about a lively city filled with people fighting to become a champion. We strived to create a vibrant place that celebrated the competitive spirit. Our goal was to bring joy back to online multiplayer gaming.

The people who gave Rumbleverse a chance and took it on as a new hobby have validated every day that we put into bringing our ideas to life. We have loved watching you play. We have learned from your stories and your insights. We even passed around the art you've created to immortalize your best moments in the streets.

It is our sincerest hope that this news does not mark the end of Rumbleverse. You may not yet have seen the Rumble in its final form. If we can welcome people back onto the deck of the battle barge again, we hope you'll be there, laced up and ready to take your rightful place in the cannon.

Iron Galaxy will keep making games. It's our passion and our purpose. Our people are filled with skills and inspirations to keep the world playing.

Thank you for playing. This is not the last time you'll hear from us. This is not the last time we'll invite you to play.
The servers for the game will be shut down on February 28.