Things are changing at Halo developer 343 Industries following massive layoffs across Microsoft—including reportedly 95 people at the Halo developer. The studio is switching to Unreal Engine, has no plans to make more story content for 2021's Halo Infinite, and continues trying to figure out what to do with a supposed Halo battle royale spin-off still in development.
In a report out today from Bloomberg, it appears 343 is basically starting from scratch with Halo. According to people familiar with the studio's plans, the company isn't actively working on new campaign DLC or updates for Halo Infinite. Instead, before the layoffs, developers at 343 were reportedly working on prototypes for new Halo games and projects in Unreal instead of designing new content for Infinite. And according to the report, many of those devs have since been laid off.
It's also reported that the studio has, after nearly a decade of debate, decided to finally switch to Unreal. While there were internal concerns about how future Halo projects made with Unreal will play, the current tech—known as Slipstream—is apparently a pain to work with and is based on decades-old code at this point. Bloomberg's report even mentions that two multiplayer modes for Halo Infinite—Extraction and Assault—are nearly done but haven't been implemented yet due to issues with the aging Slipstream tools and tech.
This switch to Unreal will apparently start with a brand new Halo game internally code-named "Tatanka." Reportedly, this game is being developed by both 343 and Texas-based studio Certain Affinity, a team that has a long history of working on previous Halo projects. It seems Tatanka started out as a battle royale but could "evolve in different directions."
Kotaku has contacted Microsoft about the reported engine switch and campaign DLC.
G/O Media may get a commission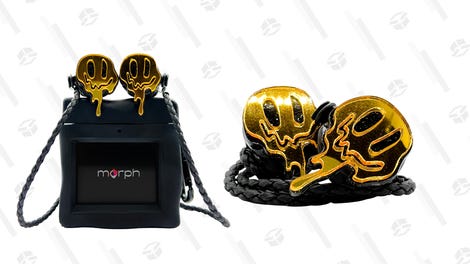 morph audio
Morph Earphones
SWAPPABLE FACEPLATES
Each set of Morph Earphones is crafted as a wearable street fashion accessory, as they come with swappable faceplates that you can switch out to change up your look at will. Choose from everything from trippy smileys to sakura blossoms and much, much more.
Halo Infinite was supposed to be a big, 10-year game for Xbox and 343. And while it launched to rave reviews, it has since become a punching bag for Halo fans who find its updates lacking and its road map too sparse. It now seems like those long-term plans focused around Infinite aren't quite the future anymore. In an email obtained by Bloomberg that was reportedly sent to staff by new 343 studio boss Pierre Hintze, the current plan for the Halo studio is to support "a robust live offering" for Halo Infinite and its Forge mode while also "greenlighting our new tech stack" for future Halo projects.