Matthew "Mizkif" Rinaudo, the embattled Twitch streamer who was suspended from gaming organization One True King (OTK) last September amid allegations that he helped cover up an alleged sexual assault, has apologized for the "insensitive" and "tone-deaf" behavior he displayed in a broadcast from early October, shortly after his suspension. The apology follows his reinstatement in OTK, which lifted the suspension last week. Mizkif promised he would "be better and learn from [the] situation," especially regarding serious topics of sexual assault and harassment, apologizing specifically to people who have experienced them.
If you've been out of the loop, Mizkif was accused of covering up an alleged sexual assault perpetrated by his friend and fellow streamer, CrazySlick. OTK, the Austin-based gaming org he helped co-found in October 2020, placed Mizkif on leave until a third-party legal firm could finish its investigation into his supposed involvement in the serious allegations. That was back in September, at which point Mizkif pretty much disappeared from the internet, barely posting and hardly streaming. However, Mizkif hosted a comeback livestream (which has since been deleted) in early October, where he spent much of the time watching HasanAbi and xQc react to his stream, playing Super Mario 64, and reacting to an old skit satirizing sexual harassment corporate training videos. To put it mildly, it appeared as if Mizkif wasn't taking the elephant in the room seriously. As such, his handling of the situation has landed him in hot water yet again.
OTK took to Twitter on December 31 to post an update on Mizkif's situation. The org said that after third-party law firm Jackson Walker LLP "did not find direct evidence that Mizkif attempted to minimize or cover up sexual assault as alleged," his membership status has been reinstated. However, his "callous disregard towards the severity of sexual misconduct and racial prejudice," specifically the way Mizkif "demonstrated a lack of empathy and ignorance towards the seriousness of the situation" in his early October comeback stream, was justification enough for OTK to "suspend Mizkif from his board duties effective immediately." OTK has also placed Mizkif on "monitored probation" until he is capable of showing his character growth.
"OTK stands firmly against sexual harassment, assault, and bigotry of all forms, and is committed to upholding its core values of equality, respect, and inclusivity," the org said. "We appreciate the support of our community throughout this process and will continue working tirelessly to ensure our organization is one you can be proud of."
G/O Media may get a commission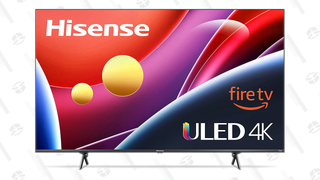 42% Off
Hisense 58-Inch ULED LED 4K Smart TV
TV time
This 58-inch smart TV has 4K visuals on a stunning ULED screen that boosts color, contrast, and brightness, has Fire TV built-in for convenience, and even includes Alexa.
In an apology video uploaded on January 2, Mizkif said he wanted to address his "embarrassing comeback stream," calling his behavior "absolutely unacceptable."
Mizkif
"I want to apologize to everybody but especially victims of sexual assault," Mizkif said in the incredibly short video. "The way I behaved was horrible, and I will be better and I will learn from this situation. I want to be better for not only myself but for my audience. I want my influence on this world to be positive, and I don't want anybody to deem the way I acted in that first stream as acceptable or OK because it was not. […] I'm sorry for such a long wait for a response. If you were angry with me, I completely understand. But I absolutely do love this job, I love streaming, and I hope you guys stick along."
Mizkif has since kind of returned to livestreaming on Twitch, with his latest broadcast on January 2 pulling in almost 600,000 viewers. He opened the stream by directing chatters to his YouTube channel where the apology video lives, saying that everything's been addressed there before moving on to his typical content: reacting to some videos, talking with his viewers, and playing Mario Party Superstars with a few friends.
All of this comes as OTK seems to be in the midst of its own reckoning, as one of the co-founders, Rich Campbell, was accused of sexual assault in December and immediately resigned from his position at the organization. Campbell has remained silent since the allegations came to light, only posting that he will "share [his] side of the story" but needs time to collect his thoughts on everything that's going down.
Kotaku reached out to Campbell, Mizkif, OTK, and Jackson Walker LLP for comment but has yet to receive a reply.