Ten years in, Final Fantasy XIV is setting sail for new horizons. Square Enix has revealed a bunch of new information about what's next for the blockbuster MMO, including new job classes, platforms, and an expansion called Dawntrail. The new story campaign planned for 2024 will see players travel to the "New World," a continent called Tural that director Naoki Yoshida likened to the "best summer vacation ever."
HD-2D, The Unique Retro-Inspired Art Style, Took Off In 2022
The deails were all announced during the Final Fantasy XIV FanFest Keynote in Las Vegas, NV on July 28. Yoshida appeared in a Teenage Mutant Ninja Turtles: Mutant Mayhem t-shirt to talk about new damage-based classes coming to the game alongside patch 7.0 next year, as well as to invite Microsoft Gaming CEO Phil Spencer on-stage for the news that the long-running MMORPG will finally come to Xbox Series X/S. Here are all the biggest takeways from the next chapter in Final Fantasy XIV's post-Endwalker saga.
Dawntrail begins a new journey
The upcoming expansion takes place in a water-filled, tropical world in the midst of a succession fight. Players will spend a lot of time in the new social hub of Tuliyollal, Tural's capital. In addition to raising the level cap from 90 to 100, the expansion will also introduce two currently unknown DPS jobs, as well as new dungeons and a tribe called the Pelupelu. There's a Final Fantasy X vibe to the whole thing, but unforutnately Yoshida confirmed there won't be any underwater soccer, AKA Blitzball.
A graphical update will make the whole game look better
While Dawntrail is the main affair, version 7.0 will also include a major visual overhaul that will help freshen up the aging MMO. We're talking shinier metals, more detailed foliage, higher resolution objects and shadows, and more realistic skin. The new look will be most noticeable in the expansion, but old content will be getting tweaked over time as well.
Players can finally use two dyes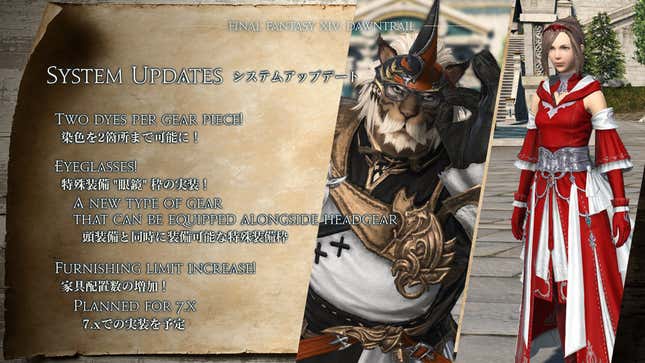 MMOs are all about ignoring your friend while they explain the raid strategy to everyone and looking super stylish while you're doing it. For years, players were limited to just one dye per gear piece when designing their look. Square Enix now plans to roll out the option to use two dyes per gear piece, leading to defeaning cheers throughout the world of Hydaelyn.
The free trial now includes Stormblood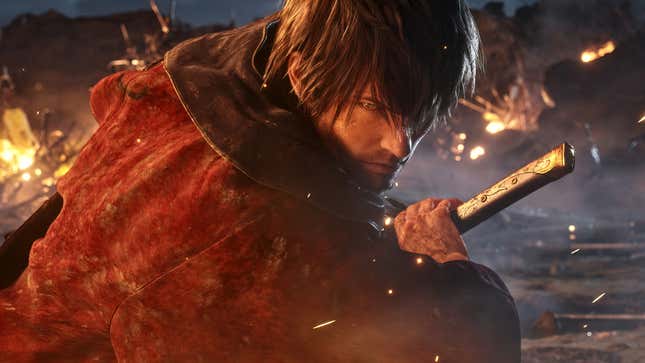 Final Fantasy XIV is a paid MMO that also requires a subscription, but you can also try it for free. You're limited in the number of characters you can create and your final level cap, but it's more than enough to experience everything of note in the story. Previously, the free trial only included A Realm Reborn and Heavensward. Starting around patch 6.5 in September, it will also include Stormblood. The free period lasts for 30 days from when you start.
Final Fantasy XIV comes to Xbox with crossplay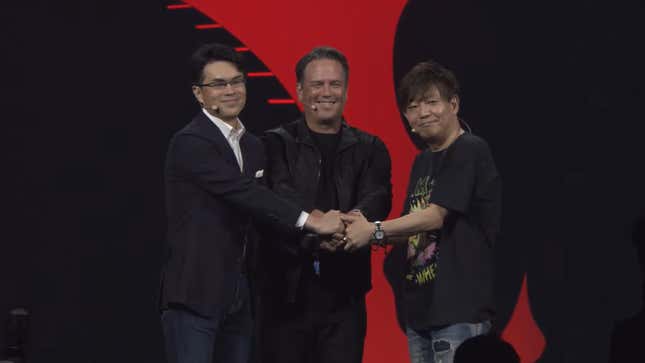 After years of Spencer and Yoshida talking about how they'd love for the MMO to come to Xbox, it's actually finally coming to Xbox. A beta for the port will go live later this year, with the full version supporting 4K launching in 2024. It will support crossplay with PlayStation 5 and arrive in time for Dawntrail. Both Microsoft and Square Enix hinted that the partnership was the beginning of new collaborations to come, potentially signaling an end to the RPG maker's lopsided exclusivity deals with Sony.
A crossover with Final Fantasy XVI could be coming
With the MMO and new single-player entry sharing a producer, a crossover between the two games seemed inevitable. Yoshida has a running "dad joke" where he talks about how discussions between he and himself on the collaboration are going well. He said during a panel discussion over the weekend that they can expect an official announcement later this year, implying outfits or entire characters might swap worlds in the future.