8BitDo has released countless controllers for every console, old and new. Now it's getting into the mechanical keyboard frenzy with two models inspired by the NES and Famicom. They're priced at $100 each with a planned ship-date of August 10.
What You Should Know About Mario Strikers' Big Free Update
The "N edition" is based on the North American version of Nintendo's first console, complete with light and dark gray keys and red lettering, while the "Fami edition," based on the Japanese version, sports red and white colors with sleek gold lettering at the top. Both keyboards offer wireless 2.4G, Bluetooth, and wired USB connections while promising 200 hours of use off a single charge.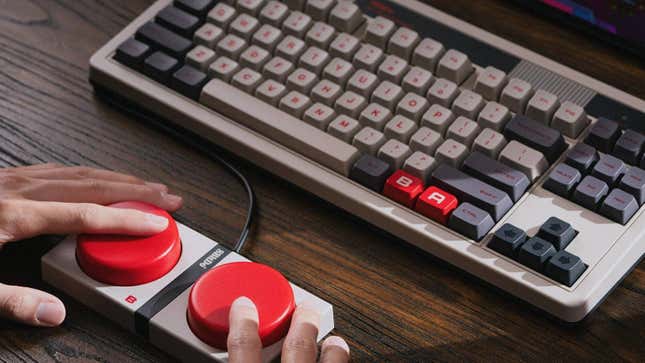 Aesthetics are one thing, but the whole point of mechanical keyboards is the satisfying clicky-clack of the keys. Both use Kailh Box Switches that are hot-swappable with quieter alternatives. There are direction keys but no number pad, though the rest of the keys appear to be the standard size. Best of all, there are volume dials and the pair of programmable Dual Super Buttons that come with each set for executing your macro of choice on demand.
Hardly any games on the Switch support mouse and keyboard, but you can use these retro homages to improve your KDA on PC, Xbox, or PlayStation 5. They look great, and the price isn't bad, but it will all come down to how they feel in person. I'm a big fan of pretty much all of 8BitDo's other peripherals. Hopefully they can bring the same mix of whimsy, nostalgia, and refinement to the mechanical keyboard space, even if there's a lot more competition there than in third-party controllers.
Pre-orders for the N and Fami editions go live on July 31. Maybe next time 8BitDo can take a stab at translucent keyboards in the mold of the Nintendo 64.