For years, Lego and Nintendo fans alike have dreamed of a Legend of Zelda-themed set being released. And for years that seemed unlikely to ever happen, until Lego and Nintendo started working together on Mario sets and people wondered if maybe, just maybe, Zelda was next. Now, after last year's evidence that such a set was in the works, a Zelda-themed Lego set has seemingly leaked via a private consumer survey and people are excited.
Back in Summer of 2020, Lego and Nintendo began releasing Mario-themed Lego play sets that featured iconic characters and enemies from the popular platformer franchise. Nintendo and Lego continued this partnership with a brick-built NES and TV set later that same year. Then in 2021, more Mario-themed sets were released and Nintendo and Lego put out a large Super Mario 64 block set. In 2022 they released a giant Lego Bowser. It seems the partnership between the two massive companies has been successful, so it makes sense that both would want to keep the gravy train rolling with a new set based on The Legend of Zelda franchise.
As reported by Lego news site PromoBricks, a whole slew of sets have seemingly leaked via a survey someone took part in. The person was not supposed to share the images of the sets included in the survey online, but well, here we are. And one of the survey sets is a Legend of Zelda Deku playset. You can see the supposedly leaked Lego set images on Reddit.
Apparently, the Great Deku Tree will be two-sets-in-one, letting fans choose either the Ocarina of Time appearance or how it looked in Breath of the Wild. Minifigs reported to be included in the set are Link with medium legs and in a green outfit inspired by his Ocarina of Time look and a Link and Zelda with normal minifig legs, both based on their Breath of the Wild appearances. The Breath of the Wild version of the set also has pieces left over that let you build a brick-built version of Hetsu. According to PromoBricks, the set will include 1,920 total pieces and will retail for somewhere between $200 to $325.
G/O Media may get a commission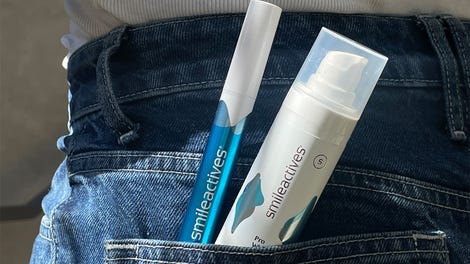 58% off
Whitening Powerhouse Pen & Gel Duo
BRIGHTEN YOUR SMILE
Whiten your teeth at home with Smileactives' one-two punch: the Whitening Powerhouse Pen & Gel Duo. This set will get you the kind of teeth brightening power that uses the same ingredients that dentists rely on for in-office whitening treatments for a fraction of the price.
Another piece of evidence that seems to confirm the release of a Zelda set came back in November of last year. It was around that time that Zelda and Nintendo fans discovered that Lego had blocked people from submitting new Lego Idea sets based on The Legend of Zelda. The official website cited a "license conflict" which prompted some to wonder if Nintendo and Lego had their own Zelda set in the works. And now it seems they do.
Of course, while this survey seems real and evidence points to the set itself being legit, it should be noted that any set unofficially leaked could possibly never see the light of day. Lego is always working on various different sets and themes and not every planned creation is released. We will just have to wait and see what happens. Perhaps a set like this could be released alongside Tears of the Kingdom, which is out later this year…