On December 22, the popular 2019 Korean MMORPG, Lost Ark, announced an update to a hero class months before her official release in the U.S. and Europe in April. The update isn't a gameplay one, but rather, a cosmetic one that will tone down any perceived lewdness by adding some length and undergarments to her dress.
When MMORPG Lost Ark was rereleased in the U.S. and Europe after its publisher, Smilegate, partnered with Amazon Games the game did gangbusters by setting new concurrent player records on Steam. Despite its critical success, some of Lost Ark's western player base criticized the game for having antiquated female representation because of its scantily-clad armor designs and aggressive hip-swaying walk animations.
Read More: Lost Ark's Depiction Of Female Characters Feels A Decade Out Of Date
Instead of removing the game's revealing outfits, Soomin Park, the franchise leader over at Amazon Games, told Eurogamer Lost Ark will be "making adjustments" to them back in March or last year. At the time, those adjustments didn't involve altering outfits to make them less revealing but instead involved changes to the game's marketing. As a result, those revealing outfits aren't featured as prominently in advertising or in the game's character creation screen.
"We are also including in some new outfit options that are not quite as revealing, but these are an addition and not a replacement," Park told Eurogamer.
Turns out Park is true to their word because Ark's upcoming young hero, The Artist, is getting an adjustment so her skirt isn't so low cut. In an official 2023 roadmap forum post, Lost Ark's development team revealed the first hero to its specialist subclass, The Artist is covering up once she arrives in April. The Artist is a young woman who wields a giant paintbrush to heal her allies and tag her opponents. The aforementioned changes will add shorts underneath The Artist's short skirts and will tweak the length of her pants and tights. At the end of The Artists' forum update, reassured players that the upcoming cosmetic changes to the Artists "preserve the original spirit of the skins" and "ensure players will have a variety of compelling customization options."
G/O Media may get a commission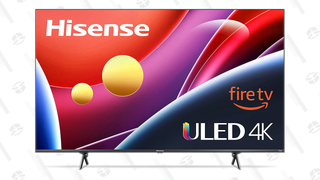 42% Off
Hisense 58-Inch ULED LED 4K Smart TV
TV time
This 58-inch smart TV has 4K visuals on a stunning ULED screen that boosts color, contrast, and brightness, has Fire TV built-in for convenience, and even includes Alexa.
"We know there's been a lot of speculation in the Lost Ark community on how the Artist Class would arrive in the Western version of Lost Ark, and we want to be transparent with players excited for its release. Previously, we've stated that there may be some content in the original version of the game that gets adapted for Western audiences," the official blog post said. "While our goal is to preserve the authenticity of the original game, we also work with Smilegate RPG to make localization updates to ensure the game feels approachable and representative of our Western players. Nothing gameplay-related will change for the Artist Class, but some skins will be modified to better fit Western norms."
Alongside the Artist's debut for Western players, Lost Ark will also gain new faces in The Witcher 3's Geralt and Ciri later this month for its special collaborative event as well as a tease for the game's one-year anniversary event.