We are less than two weeks away from playing Capcom's glorious repaint of its iconic third-person shooter, Resident Evil 4, originally released in 2005. Though breathless questions on sites like Reddit, Quora, and Twitter suggest the remake is still operating from the mysterious shadows, there's a lot we know for certain.
We've been accumulating cinematic trailers and gameplay footage like surface runoff over the past few months since the game was announced in 2022. Fans are also already getting comfortable with the playable demo that released last week, modding in bananas and a dewy, shirtless protagonist Leon S. Kennedy and shit. But people online can't go to sleep in good conscience. They need to know even more. And that's fine—I'll answer nine frequently asked RE4 questions, you only have to keep reading.
---
When is the Resident Evil 4 remake coming out?
Starting off easy, I see. March 24.
What consoles will RE4 be on?
Controversially, PlayStation 4 and 5, Xbox Series X/S, and PC. Not Xbox One. It doesn't make much sense considering PS4 compatibility prevents the game from being truly "next-gen" anyway. But that's what we're working with until Capcom announces otherwise.
Read More: "Resident Evil 4 Remake Launching On PS4, But Not Xbox One"
Are the RE4 deluxe extras any good? What am I missing from the sold-out Collector's Edition?
The remake's deluxe edition includes the following downloadable content, according to the Resident Evil website:
"Casual" Leon and Ashley costumes (Leon wears a bomber jacket)
"Romantic" Leon and Ashley costumes (Leon looks like he's in JoJo's Bizarre Adventure)
"Hero" Leon costume and filter (Leon looks like he's in The Princess Bride; the filter makes the game look like it was generated by Instagram)
"Villain" Leon costume and filter (You will regularly confuse Leon for 2005 Criss Angel; the game is blood-red)
"Sporty" Leon sunglasses (speaks for itself)
"Sentinel Nine" gun
"Skull Shaker" gun
Treasure map expansion
Swappable original soundtrack
Some purchasers of the $250 Collector's Edition are in order fulfillment limbo, with GameStop recently canceling a "significant number" of pre-orders. But in addition to the Extra DLC Pack content described above, they would have received:
The game and a steelbook case
A Leon figurine
An artbook
An obtusely described "special map"
A metallic-looking "collector's box"
Digital soundtrack
Personally, I don't think either edition is particularly worth the trouble, but if you start getting jealous of your deluxe friends, the Extra DLC Pack will be available to purchase separately when the game comes out on March 24.
The following pre-order bonuses apply to both deluxe and Collector's Edition purchases:
Gold attaché case
Classic attaché case
Handgun ammo charm
Green herb charm
Retail buyers will be able to redeem their voucher codes whenever, and PlayStation store, Xbox store, and Steam purchasers have until March 23 at 11:59 p.m. ET to qualify for the bonuses.
G/O Media may get a commission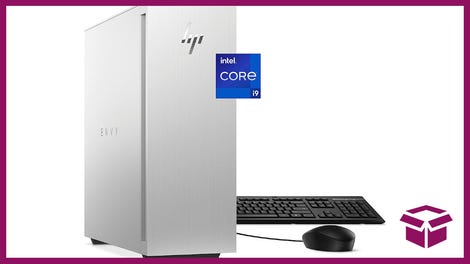 28% Off
HP Envy Desktop Bundle
Gaming time
This PC has an RTX 3070 GPU, a 12th gen Intel i9 processor, 16GB of SDRAM, and a 1 TB SSD, and it comes with a mouse and keyboard included as well.
These extras, as far as I can tell, will not be able to be purchased outside of their promotion window, but aside from allowing me to type "attaché" for what I believe to be the most consecutive times in my life, I don't find them too exciting either. You might enjoy the game's inventory system more than I do. But can we get an illegal Resident Evil 4 pre-order gun instead?
Some fans of the series call the much more action-dense Resident Evil 4 the least Resident Evil game, so, in that sense, it's a perfect place to start. Returning characters and the basic, disease-spoiled premise allow it to interact comfortably with the games that came before it, but newcomers won't need much context to get immersed, especially not with the remake's refreshed gameplay style and graphics.
The remake will not be cutting any content from the original, only modifying or adding to it, so in that sense, yes. But disagreements are in the details, and fans' interpretation of the original's tone, look, and feel will decide for them how "faithful" the game is for them. Case in point, people were deeply unhappy with thick drops of rain they saw in a gameplay trailer from February. More faithful rain, the people demand.
A cool developer misstep made it so that, in the original game, president's daughter and tag-along Ashley would take on some of Leon's animations, allowing her to occasionally unleash the fury of a teenage girl and suplex enemies.
I'd love to see this happen on purpose, but Resident Evil is probably losing WWE Ashley in the remake. Some confirmed changes to the companion include no more health bar and a business-casual blazer, both of which I think should make her feel less like a squealing, stereotypical damsel in distress.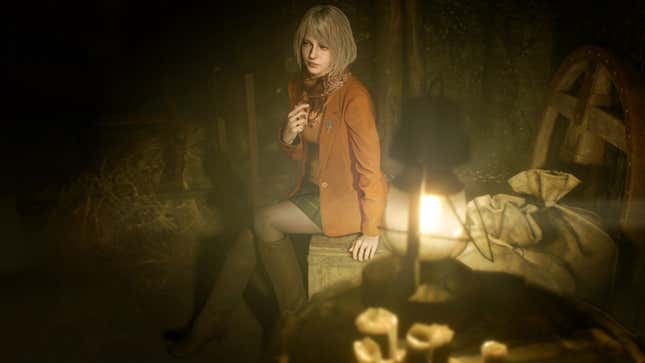 Is altering Ashley's outfit, removing suggestive dialogue, and—sorry, just need to hold back my vomit for a second—upskirts (like Resident Evil 4 VR already did in 2021) an act of puritanical, liberal hivemind censorship?!
By censorship's definition—"whenever some people succeed in imposing their personal political or moral values on others," the ACLU says—sure, I guess?!
But I don't think saying "censorship" is more appropriate than acknowledging Capcom's changes as an inevitable part of the remake process, another piece of the developer attempting to make the game less alienating to modern audiences. You can also play one of the many re-releases of the "uncensored" original game instead, if it's really that big of a deal to you, or try self-reflecting on why you so desperately need a crumb of video game pussy.
What can the remake do to be even better than the original?
Make horny boys cry.