When FaZe Clan, an esports company turned gaming lifestyle agency, went public last year it claimed to be worth $700 million. Just six months later it's worth just a fraction of that. Whether it's the controversy constantly swirling around some of its members or the fact that the esports bubble has finally popped, nobody wants to buy into FaZe Clan it seems, potentially making one of the biggest bets in gaming a complete bust.
On January 20, the stock price fell below $1 for the first time ever. It continued to slide throughout last week and is now just north of $0.80. If things stay that way for over a month FaZe Clan will get delisted from the New York Stock Exchange entirely. It's now effectively a penny stock, and a ticking time bomb. Last September, FaZe Clan reported $43.9 million cash on hand. Forbes recently projected it would likely run out before the end of 2023. The company was never profitable, but now it's something even worse: a company that can't convince anybody it one day will be.
Founded back in 2010, FaZe Clan includes pro teams competing in esports ranging from Call of Duty to Smash Bros. and individual players who bring in millions of subscribers on Twitch and YouTube. As esports rode the wave of genuine fan excitement puffed up by investor hype, the purses for competitive gaming events ballooned. At the same time, fans flocked to watch their favorite players chill on Twitch and YouTube and perform everything from trick headshots to bumming around a Hollywood mansion called the Clout House.
The real money has always been in advertising though, and FaZe Clan's gamble was believing it could successfully sell its members' huge social media followings to other brands desperate to reach Gen Z and their younger siblings. The group collaborated with big names like Snoop Dog and Pitbull. And in June 2021, FaZe Clan sought to convince the money people it wasn't just a bunch of dudes playing video games by appearing on the cover of the recently gutted Sports Illustrated.
G/O Media may get a commission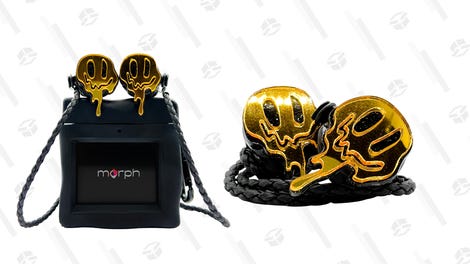 morph audio
Morph Earphones
SWAPPABLE FACEPLATES
Each set of Morph Earphones is crafted as a wearable street fashion accessory, as they come with swappable faceplates that you can switch out to change up your look at will. Choose from everything from trippy smileys to sakura blossoms and much, much more.
Then four months later, it announced plans to raise nearly $300 million in cash and go public by way of a special purpose acquisition company (SPAC). A valuation of $1 billion was tossed around in press releases, but none of it made any sense. "Feels all hype and no sauce," esports journalist Jacob Wolf wrote at the time. Maybe that's why FaZe Clan was using a SPAC, which in the words of The Wall Street Journal is a clever legal fiction for making business projections "that aren't allowed in traditional initial public offerings." FaZe Clan ended up raising roughly $291 million from the financial firm B. Riley and went public in July 2022 for just $725 million. "It's obviously still nascent, and most of the organizations are still trying to figure out how to actually make money," an analyst told CNBC at the time.
"The company has been exploring a number of ventures beyond video games," The Washington Post reported in an interview with FaZe Clan CEO Lee Trink after the company went public. "Gambling, virtual dining and ghost kitchens, fan clubs and subscription models are some of the potential revenue generators Trink said the company is exploring." Six months later FaZe Clan is still exploring. There are partnerships with McDonald's and Xfinity, member Kris "FaZe Swagg" Lamberson signed an exclusive deal with YouTube, and Gregory "SlurpeeG" Sabia was signed to a new FaZe team for Apex Legends.
The roughly 100-member group is also far from controversy free. Back in 2021 the FaZe name was rocked by an alleged crypto pump-and-dump scheme that saw multiple members kicked out or suspended. Then-member Talal "Virus" Almalki disavowed the company's 2022 pride statement before eventually leaving of his own accord. Member Evan "Cented" Barron was also fired last year after a clip surfaced of him using the n-word. And in July, the same month the company went public, Atlanta FaZe, one of the preeminent competitive Call of Duty teams, had to issue a public apology for a misogynistic tweet about getting women drunk.
Things might have been fine though if not for the news in early fall of last year that 1) $71.4 million in loans to FaZe Clan failed to materialize and 2) 92 percent of stockholders planned to unload their shares as soon as the waiting period ended. The stock price went from $14.75 on September 26 to less than $5 a week later. The selloff continued through the end of the year. FaZe Clan board director Lewin Nick appears to have just dumped millions in shares as recently as last week.
FaZe Clan reported $52 million in revenue in 2021. That same year it reported $37 million total losses. It seems likely it will have lost even more money in 2022. Trink was asked when FaZe would become profitable by The Wall Street Journal last August. "You know, look, I wouldn't plant a flag on a date," he said. "I will tell you that getting to break even and then profitability is an absolute priority. And so I think we'll get there in the not-too-distant future, while we just scale the business, while we create greater revenue opportunities, and you'll see the trend will continue in the right direction."