If you, like me, are having trouble keeping track of all the video game adaptations coming to TV and film, you may have forgotten that a Tomb Raider series is in development over at Amazon. Well, friends, I will not be forgetting about this show any time soon, now that writer/actor/comedian Phoebe Waller-Bridge is reportedly writing the script for the show.
According to a report from The Hollywood Reporter, Waller-Bridge is attached to the live-action show as a writer, though there's no word on whether or not the Fleabag star will be in front of the camera at this time. Alongside writing, she's set to act as executive producer alongside Ryan Andolina and Amanda Grenblatt, who both recently left Amazon to found their own production company, and have worked out further deals with Bezos and co. to work on projects like the Tomb Raider series.
If you're unfamiliar with Waller-Bridge's work, she is known throughout the internet for her role as the titular character in Fleabag, a two-season series (also produced by and streaming on Amazon) which is also one of the few examples we have of what perfect television looks like.
You want to watch two short self aware seasons about a woman trying to claw her way out of emotional detachment and grief? It's streaming on Prime. Don't thank me, because it will ruin you for days. Come for Waller-Bridge's sharp writing and performance, stay for Andrew Scott as the Hot Priest.
G/O Media may get a commission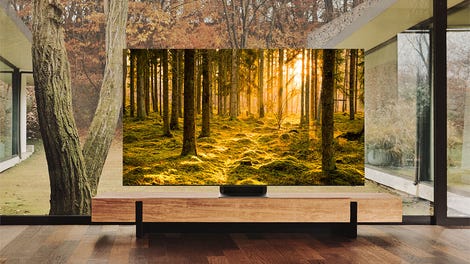 Up to 40% off
Samsung Smart TVs
Vivid colors and deep blacks
It's Oscar season which means it's time to binge all the nominations before the big day. Why not enjoy these pieces of art on a new TV from our friends at Samsung?
This series will be the third time Tomb Raider has seen a live-action adaptation, with Angelina Jolie and Alicia Vikander portraying Lara Croft in two separate film series. At the moment, it remains unclear if this show will be based on the classic Tomb Raider games or the survival-oriented settings of the reboot series.
While the Amazon adaptation is in the works, developer Crystal Dynamics is also in the midst of developing a new Tomb Raider game. The studio was recently acquired by The Embracer Group after Square Enix sold it and other studios off in an effort to downsize and shift its focus onto other things like blockchain.