The company that makes Funko Pop! collectibles is in so much trouble it's preparing to throw hundreds of thousands of its pop culture-inspired figurines into the garbage. Funko revealed the plans in a recent earnings call filled with so much bad news its stock price fell off a cliff the next day.
"Inventory at year-end totaled $246.4 million, an increase of 48% compared to a year ago," the company wrote in a press release on Wednesday, (via ICv2). "This includes inventory that the Company intends to eliminate in the first half of 2023 to reduce fulfillment costs by managing inventory levels to align with the operating capacity of our distribution center. This is expected to result in a write down in the first half of 2023 of approximately $30 to $36 million."
Translation: Funko's warehouses are overflowing with five inch chibi replicas of Machine Gun Kelly, Spider-Man, Pikachu, and every other vaguely famous cultural icon, and throwing them out will be cheaper than trying to sell them. During a call with investors, CEO Brian Mariotti said a new distribution center in Arizona was so full that the company has been bleeding cash renting shipping containers to hold all of the excess inventory.
Mariotti arrived just last year amid an executive shakeup following increasingly bad earnings news. The stock price cratered last November when Funko slashed its financial outlook for the year, and fell by another 25 percent this week as the company revealed it would also lay off 10 percent of its employees.
Part of what seems to be going on here is that supply chain shortages combined with extra income and time at home during the early pandemic years spurred a temporary run on Funko Pop! sales. Now that the initial rush has subsided, the company has a ton of extra stock at the same time sales are dropping. It's also hard not to wonder if the entire bobblehead redux has hit peak saturation.
G/O Media may get a commission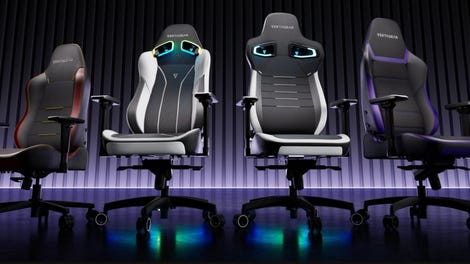 SAVE UP TO $150
Vertagear Private Sale Event
Save on super comfy seats
Save up to $150 off the chair of your choice during the Vertagear Private Sales Event. Get ergonomically-sound models like the ContourMax Lumbar and VertaAir Seat, both of which are designed to help offer lumbar support, comfort, and relief form chronic back pain.
We're now on the third season of The Mandalorian. How many more little pea green Grogu's do people need? Funko Pop! collectibles have long been propped up by a secondary speculators' market which tries to stay ahead of the curve on which release will end up being rare and valuable in the future. A pair of Willy Wonka Pops recently went for $100,000.
Over the long run, 99 percent of Funkos are worthless outside of whatever depraved joy fans get from occasionally making eye contact with the ones lining their shelves. And now a ton more of them appear headed for a landfill somewhere in Arizona. May our future ancestors, or the aliens excavating our civilization sometime in the distant future, forgive us.