Sony's PlayStation VR2 headsets don't release for several more weeks, but the console manufacturer is already reportedly cutting inventory by half after receiving fewer preorders than expected. Some analysts are still skeptical the device will ever be more than an "expensive accessory for the PS5."
Bloomberg reported last fall that Sony planned to make 2 million PS VR2 headsets for launch. It now reports Sony has cut that number to 1 million, with plans to only ship 1.5 million units between this coming April and March 2024. Sony's previous PSVR headset, meanwhile, sold roughly 2 million units in its first year.
Update 1/31/23 12:40 p.m. ET: A Sony spokesperson initially declined to comment to Bloomberg saying the company does not discuss product inventory, but has now denied the report in a statement to Gameindustry.biz. The company said it has "not cut PlayStation VR2 production numbers" and that it's "seeing enthusiasm from PlayStation fans for the upcoming launch."
Original story follows.
No doubt the price difference has a lot to do with that potential difference in sales. The first PSVR headset was $400 at launch. The upcoming PS VR2 one is $550, which is even more than the PS5 console required to use it. If you want to play Horizon Call of the Mountain, the Horizon Zero Dawn VR spin-off, you'll need to pay another $50 on top of that.
G/O Media may get a commission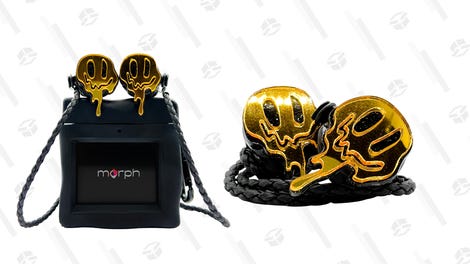 morph audio
Morph Earphones
SWAPPABLE FACEPLATES
Each set of Morph Earphones is crafted as a wearable street fashion accessory, as they come with swappable faceplates that you can switch out to change up your look at will. Choose from everything from trippy smileys to sakura blossoms and much, much more.
While the PS VR2 tech has definitely seemed impressive so far, and much more streamlined than its predecessor, that price point doesn't seem aimed at expanding interest beyond existing VR diehards. It doesn't help that PS VR2 won't be backwards compatible with the old headset's library of games either. Early adopters will effectively be buying into an entirely new ecosystem at the same time that companies like Meta are pulling back slightly from investing in it.
The entry level Meta Quest headset sold over 8 million units in 2021, but last year the company hiked the price from $300 to $400. Now it's pushing a $1,500 Meta Quest Pro headset with the promise of better productivity at work and nicer Zoom calls. Three years after Valve proved you could make a blockbuster VR exclusive with Half-Life: Alyx, it still feels like companies aren't ready to fully commit to the technology. Maybe Horizon Call of the Mountain will prove everyone wrong.