With Final Fantasy XVI's June 22 release right around the corner, Square Enix decided it's finally time to drop a PlayStation 5 demo for the action-RPG so players can get a taste of the grittier, Game of Thrones-influenced sequel for themselves.
The Week In Games: Spooky Spiritual Retreats And Guiding Ghosts To The Afterlife
The demo goes live across on the world on June 12, beginning at 4:00 a.m. ET in the United States. It will take place at the beginning of the game and be over two hours long, seemingly taking fans through Final Fantasy XVI's prologue where protagonist Clive Rosfield is still young. The best part of all is that players' progress will carry over to the main game should they decide to buy it, and they can keep adventuring through its war-torn world of Valisthea.
Producer Naoki Yoshida delivered the announcement at a Final Fantasy XVI celebration event, where he also explained that a second Battle demo for the game will unlock once players complete the first one. Since the prologue will seemingly include a lot of cutscenes and Clive won't yet be a full strength, the battle demo will show off how Final Fantasy XVI's new real-time combat system looks and feels in action once you have some real powers and skills to play with. It apparently takes place in a very dark stronghold, however, and Yoshida told fans not to worry, the rest of the game will be much brighter.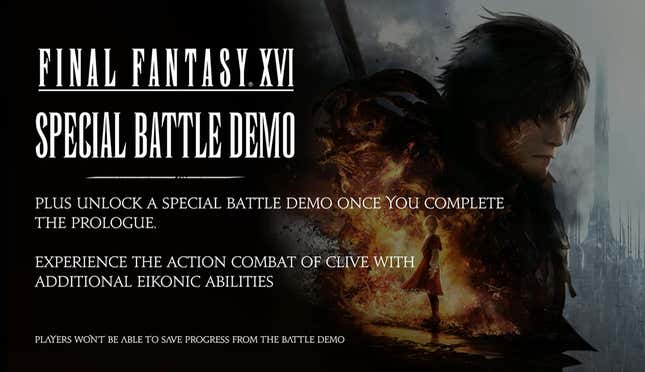 Read More: Final Fantasy XVI Sounds Fun, But Series Vets Might Have It Rough
Final Fantasy XVI is slated to be one of the most mature entries in the storied role-playing game franchise. So mature, in fact, that the adorable Moogles were almost cut from the game due to the narrative's adult themes and tone. This will also be the first game in the series to put you in direct control of summons like Ifrit and Phoenix for powerful, towering Eikon battles. It should be sick.
---
Kotaku is covering everything Summer Game Fest, from the main show on Thursday to other events happening throughout the next week. Whether you're into larger-than-life triple-A games or intimate, offbeat indies, you can keep up with all things SGF here.