A big fighting game tournament, Genesis 9, took place from January 20-23 in San Jose, California. Top talent from around the world, including Super Smash Bros. competitors Leonardo "MkLeo" Lopez and Samuel "Dabuz" Buzby, gathered at the San Jose McEnery Convention Center to play games like Guilty Gear Strive and Rivals of Aether. But for one Super Smash Bros. Melee pro, British player Elliot "Frenzy" Grossman, the Genesis 9 tournament started with an illegal taxi and, he claims, a near kidnapping.
"Got tricked into an illegal taxi coming out of [the San Francisco International Airport] and nearly got kidnapped," Frenzy tweeted on January 19 with a picture of his scarred-up right hand. "Jumped out of the car after seeing the police chase after the vehicle and very luckily only bruised and scraped my hand and back. In the hospital [right now], [but I have] no idea how anything works here [to be honest]."
You might be wondering what the hell Frenzy's talking about, as it sounds like some action movie stunt with Tom Cruise or something. Well, as it turns out, the Falco main, who was making his way to the Genesis 9 tourney, encountered some…complications when he touched down in California.
"So, I had just got off an 11-hour flight from London Heathrow Airport to San Francisco International Airport," Frenzy told Kotaku in an email. "I was planning to get an Uber to my hotel in San Jose, but my phone had run out of battery on the way and wifi was often spotty at the airports. I decided to get a taxi instead and so, I walked out to the taxi stand."
G/O Media may get a commission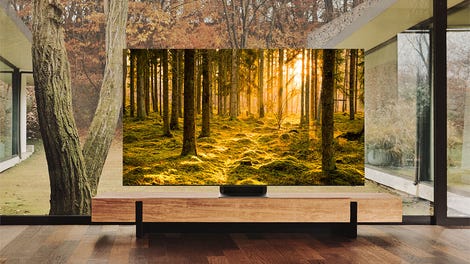 Up to 40% off
Samsung Smart TVs
Vivid colors and deep blacks
It's Oscar season which means it's time to binge all the nominations before the big day. Why not enjoy these pieces of art on a new TV from our friends at Samsung?
Frenzy is a pro Melee player for the British esports organization Reason Gaming. Hailing from England and maining Falco, he is the UK's second-best player and the 47th-best Melee competitor in the world as of 2022. His record speaks for itself, though. He regularly places in the top 10 bracket at most tournaments he participates in and has a few first-place wins under his belt as well, with his last one being at the Galint Melee Open: Fall Edition 2022 back in November. The dude can game! However, he wasn't prepared for the game of California transportation.
Beyond the Summit
"A driver approaches me and asked if I was looking for a taxi, to which I replied yes and then asked where I was going as per usual," Frenzy said. "He shows me to the car and opens the door for me to get in with my things and as I close the door and belt up, I look out of the window and see multiple police officers with weapons drawn running towards the vehicle and shouting 'Stop the vehicle!' and 'Get out!' The driver ignores this and then accelerated immediately as I was still getting in and belting up, at which point I knew that I had made a massive mistake. In the moment I just decided that if I got out quick enough, it was safer than either the driver getting away and being at his mercy or getting involved in a police chase which could end in a crash at higher speeds."
"When I turned around to put my seatbelt on, I saw multiple cops running out to surround the car out of the window," Frenzy said. "They had guns drawn. The driver then accelerated, foot to the floor, and tried to get away. That was when I decided to bail out. I was familiar with this sort of thing happening from the internet, but I was caught completely off guard by this specific attempt, so I knew exactly what was going on."
Read More: Top Smash Ultimate Player Throws Controller At Tournament, Sparks 'Privilege' Discourse
Frenzy said he was in "such an adrenaline rush" that things went blurry. One minute, he was buckling his seatbelt to head to Genesis 9. The next, he was "rolling on the ground" after jumping out of the fake taxi cab. He said he "didn't land badly or have anything else on the road" near him to cause further injury as he rolled onto the asphalt, the car going around 15-20mph. Still, he was in "pretty serious pain," with a backpack only somewhat cushioning his tumble and his right hand taking most of the impact. The Mills-Peninsula Emergency Department in Burlingame said Frenzy didn't break anything but had "really bad swelling, abrasions, and bruising" on his right hand as well as "friction burns" on his back from rolling on gravel and "low blood pressure" for a while. He also got in touch with cops after the incident for a quick police report.
"The cops asked a lot about what the criminal's exact actions were and they explained they had been after this guy that had been running this scheme for a while," Frenzy said. "They gave me some information about the case number and who to contact. I'm not 100% sure how they caught the vehicle or the criminal as I was recovering from the jump, but I saw he was in handcuffs far away as I was being attended to later on."
A San Francisco Police Department officer told Kotaku over the phone that, although they couldn't divulge any specific information about the incident, Frenzy's case is real and an "ongoing investigation" is currently in progress. The officer also told Kotaku that the individual conducting the investigation will give us a callback, but that hasn't happened yet.
"These sorts of schemes are all over the world and, as a pretty experienced traveller, I'm usually aware of them," Frenzy said. "However, in a lapse of judgement and after a long flight, I got tricked. They try to trick you by positioning close to where the legitimate taxi stands are and even color their cars in the same layout as legit ones. They will approach people, especially those who are on their own or who are tourists, and ask if they are looking for a taxi and where they are going. Because of this, I usually tend to stick to ride share apps when traveling, but on this occasion my phone was out of battery so I was in a rough situation."
Read More: Super Smash Bros. Ultimate Competitive Community Really Hates Steve From Minecraft
In the end, Frenzy made it to Genesis 9 to play some Super Smash Bros. Melee thanks to the help of the tournament's organizers. After taking a day or two to heal up, he said he felt good enough to compete. He didn't place that well, getting 49th in the tournament. However, he said the "event itself was amazing even despite what happened" and is "eager to return in full form next year." Here's hoping he gets there much safer next time.