At this point, it goes without saying that Elden Ring is one of the most popular games of the past year. It's won copious trophies, including the coveted Game of the Year accolade at The Game Awards. It blasted developer FromSoftware into mainstream critical acclaim. It was even the most completed and most quit game of 2022. Elden Ring is a mega-hit, so it shouldn't come as a surprise that it also won Game of the Year in Steam's annual user-voted awards. As Elden Ring hogs all the trophies, though, Steam's user base also slipped the game's community an award all its own: Elden Ring is the best game you probably suck at. Sheesh, Steam is ruthless.
Read More: Report: Elden Ring Devs Say FromSoftware Engages In 'Some Level Of Crunch'
The Steam Awards is an annual event in which the community decides on the best games of the year, voting on categories like "Outstanding Story-Rich Game" and "Better With Friends." The poll has been running for six years now, with previous Game of the Year winners including PlayerUnkown's Battlegrounds, Sekiro: Shadows Die Twice, and Red Dead Redemption 2. Rather than your typical gaming award categories, though—Best RPG, Best Fighting Game, things like that—the Steam Awards have often consisted of funnily-named contests like 2016's The "Villain Most In Need Of A Hug" Award and 2017's The "Haunts My Dreams" Award. Ever since 2019, the "Best Game You Suck At" Award has been part of the proceedings, and Mortal Kombat 11, Apex Legends, and Nioh 2 have all won it over the years.
You can add FromSoftware's notoriously punishing open-world Soulslike to that list. Valve announced the winners of 2022's Steam Awards and sure enough, Elden Ring has been crowned the "Best Game You Suck At" by the community, beating out GTFO, Victoria 3, Total War: Warhammer III, and FIFA 23 for the honor. So, in case you need another reminder that you suck at this game, as if the incessant deaths and "You Died" screens weren't enough, Steam players are here to give you the tea. Talk about rubbing salt into the wound, especially considering how many people quit Elden Ring.
Read More: Elden Ring Was The Most Completed, And Most Quit, Game Of 2022
FromSoft's gigantic Soulslike didn't just win the "Best Game You Suck At" award, though. It also snatched Steam's Game Of The Year trophy from some stiff competition: Call of Duty: Modern Warfare 2, Dying Light 2, 2018's God of War (which hit PC last year), and Stray. In fact, according to some reports, Elden Ring now has the most GOTY awards ever, beating out Naughty Dog's The Last Of Us Part 2. Now that's what we call good shit.
G/O Media may get a commission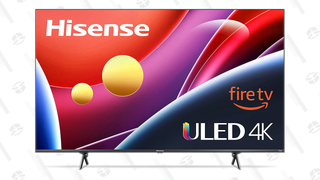 42% Off
Hisense 58-Inch ULED LED 4K Smart TV
TV time
This 58-inch smart TV has 4K visuals on a stunning ULED screen that boosts color, contrast, and brightness, has Fire TV built-in for convenience, and even includes Alexa.
You can check out the full list of 2022's Steam Awards winners below.
Game Of The Year: Elden Ring
VR Game Of The Year: Hitman 3
Labor Of Love: Cyberpunk 2077
Better With Friends: Raft
Outstanding Visual Style: Marvel's Spider-Man: Miles Morales
Most Innovative Gameplay: Stray
Best Game You Suck At: Elden Ring
Best Soundtrack: Final Fantasy VII Remake Intergrade
Outstanding Story-Rich Game: God Of War
Sit Back And Relax: Lego Star Wars: The Skywalker Saga
Best Game On The Go: Death Stranding Director's Cut
All of these accolades come on the heels of FromSoftware dropping a free PvP update for the game on December 7. The add-on content, Colosseum, introduced three new multiplayer modes for Elden Ring, alongside some balance changes and game fixes.