Overwatch 2 game director Aaron Keller gave a bold, but accurate, statement during an exclusive press presentation two weeks before the massive Invasion content drop. While introducing the new content, Keller (who also said, somewhat pointedly, that Overwatch 2's PvE mode was "not dead") noted that the August 10 launch of Invasion will be "the broadest release we've ever had for Overwatch or Overwatch 2."
Overwatch 2's New Story Missions: Worth The Money?
Read More: Overwatch 2's Story Missions Are Good, But Not $15 Good
Overwatch 2: Invasion will include a new hero (support character Ilari), a new PvE game mode (Flashpoint), quality of life updates, three purchasable PvE story missions, a free-to-play seasonal event mission (called Underworld, set in a previously undiscovered part of Kings Row), hero mastery missions (the first ever single-player PvE content that will help players learn the ins and outs of every hero), a hero progression system, and a brand-new, in-game lore repository accessible through the main menu.
It is an undeniably massive amount of content that begs the question: Why is this all happening now, and not when Overwatch 2 launched back in October? Well, probably because the core concept of Overwatch has changed so much in the last two years, and the dev team is just finally catching up.
Overwatch 2 promises made, promises kind of kept
Though it's never been expressly stated by Blizzard employees or even by former Overwatch game director Jeff "Daddy" Kaplan (who left the company back in 2021), it's clear that the game's swap to a free-to-play model, subsequent ham-handed monetization efforts, abandonment of Overwatch 1, and suffering Overwatch League have harmed the franchise. The changes also clearly disrupted things on the development end, with Keller himself admitting that the 2019 BlizzCon promise (an extensive PvE mode that would include customizable abilities and skill trees for each hero) could not happen because "we were trying to do too many things at once and we lost focus."
Read More: The New Overwatch PvP Mode Is Just What The Shooter Needs Right Now
As a result, the team decided to abandon the initial version of Overwatch 2's PvE, and focus instead on balancing the PvP—while still working on a different, lighter-lift campaign-esque mode.
During a press roundtable that took place after the aforementioned presentation, Keller also suggested that the promised PvE mode was abandoned because the team realized that core Overwatch players weren't interested in the mode's RPG elements, but in Overwatch's hero shooter aspects.
"As we continued to develop the game that we had announced, we realized that progress wasn't going as quick as we wanted it to, that the game was not coming together in the way that we thought was worthy of putting the Blizzard name on it, and at the same time, we were making a lot of sacrifices to the game that was running at the time, which was degrading the player experience," he said. "So we made a really big strategic shift and it was a very difficult thing to do, because we had an announcement that had already been made. But for us, it was more important to create something that we knew our players wanted and needed at the time."
Though it's difficult to quantify how many players were actually interested in the original PvE mode, I can't help but raise my eyebrows at the notion that what we're getting is what we always wanted. It seems, instead, like more of Blizzard's carefully curated PR speak designed to assuage any development doubt—especially when players have been lamenting a lack of forward plot progress for years.
But I can't deny that there's an absolutely massive amount of content coming with Invasion. How the hell are they pulling this off? Kotaku asked Blizzard for details on the size of the Overwatch 2 dev team, but did not receive a response in time for publication.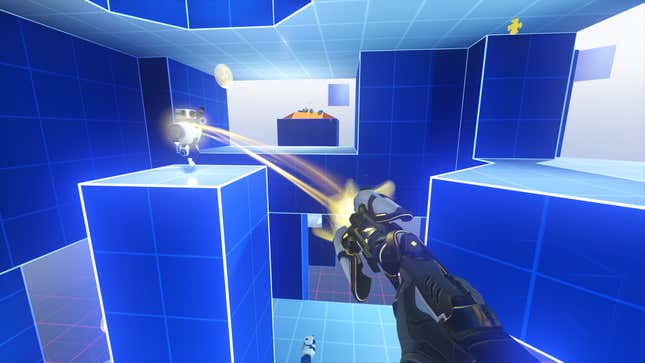 Get ready for Invasion
A recent Activision Blizzard earnings report showed that player interest and spending were down in the last quarter, and though it doesn't say why, the shifting goalposts and radical changes can't have helped. The report was hopeful, however, that Invasion's impressive collection of content would help bolster player engagement, though executive producer Jared Neuss suggested that the engagement drop was "a normal ebb and flow of players" and didn't want to put so much pressure on the new content to deliver.
Instead, Neuss said that Invasion is, essentially, what Blizzard considers a good season. "We've tried a bunch of stuff, right? We tried a very thematic approach with season five, we tried different things with season two and three, so it's less about 'is there all this stuff riding on Overwatch 2: Invasion' and more about, what do we think is the right rhythm and cadence?" It seems, then, that their idea of a good rhythm and cadence is a massive, jam-packed content drop. But is that sustainable?
Interestingly, Overwatch 2, which debuted in October 2022, is technically still in Early Access. Perhaps that was because Blizzard knew that the shifting model and modes required a sort of in-game caveat, though Neuss says "Invasion is the point at which we move on from Early Access."
Does that mean that we should expect future content drops to be this extensive? It's not clear, but if Invasion does inject new life into the Overwatch 2 player base, I can't imagine Blizzard will want to take its foot off that gas pedal just yet.