The Sims 4's Growing Together Expansion Pack DLC is exactly what fans have been waiting for. If you're a discerning Sims 4 fan wading through the massive amounts of Expansion Packs, Game Packs, Stuff Packs, and now the extra bite-sized Kits, searching for only the most crucial offerings, you'll want to add Growing Together to the list. It's an instant must-have, up there with Seasons and Cats & Dogs.
Unsurprisingly, the pack that delivers is also the pack that has exactly what the people have been asking for. Growing Together is a spiritual successor to The Sims 3's Generations Expansion Pack, which also built on family relationships when it was released more than 10 years ago.
The new San Sequoia world is nice but nothing new
As is common for expansion packs in The Sims 4, Growing Together offers a new world in San Sequoia, which is based on San Francisco and the Bay Area. It's nice enough, but it's not the only world based on California, and it's a bit small for my liking—though the size of worlds that come with expansion packs has been a gripe of mine for quite a while. I long for the days of earlier expansion packs like Get Together's Windenburg, City Living's San Myshuno, and Cats & Dogs' Brindleton Bay. Windenburg has 14 residential lots and 13 community lots, Brindleton Bay offers 11 residential spots and five community ones, and San Myshuno has an incredible 30 total lots, split between a number 21 apartment units, one full residential spot, two residential penthouses, and six community lots. The number of lots in later expansions has slowly dwindled: San Sequoia has a paltry nine residential lots and just the two community lots, and Copperdale (the world from the last expansion, High School Years) has seven residential lots and five community ones.
My favorite part of San Sequoia, however, is its starter home availability. There are empty lots where you can, of course, make the affordable starter house of your dreams. But not all of us are builders or want to spend all that time designing a house from scratch instead of jumping right in. There are two pre-built and furnished homes you can get upon starting a new game, one with two bedrooms (built by Sims content creator dzidziak86) and another four-beds-two-bath family home (built by Sims streamer lilsimsie). The latter is sparsely decorated and the rooms are small to keep it cost-effective, but the exterior design is quite nice. And it's also easy to decorate and customize as your Sim family establishes itself.
San Sequoia also features a recreation center and library, both of which are bright, family-friendly areas. But beyond those two spots and a splash pad area that isn't a full lot, there's only a vacation rental and movie theater, which is the typical rabbit hole event your Sim disappears into rather than a location you can visit. It would have been nice to walk around a lobby where Sims can meet and maybe have a couple arcade games nearby.
The Sims 4 Growing Together – Five Minutes of Gameplay
Milestones are the surprise star of Growing Together
I cannot stress how much I love Milestones, which is far more praise than I thought I would give when I first learned about the new feature. Milestones are crucial to the expanded baby mechanics, as it serves as a guide to helping your new infant grow. You can see which milestones they've yet to unlock, which makes it easy to build upon your baby's progression as you guide the little one in the world. While that part is great for the new infant gameplay, milestones are for all Sims.
G/O Media may get a commission
Across all ages, Sims will experience milestones for a number of events. Many of them are no-brainers, like getting married, having a kid, or having your first kiss. That's nice and all, but I quickly became fascinated with all the less obvious ones, especially those that work across DLC packs. You can unlock the "Crumplebottomed!" milestone after Agnes Crumplebottom, found in the Cottage Living Expansion Pack, hits you with her purse for the first time. Sure there's a milestone for your first WooHoo, but you never forget your first Crumplebottoming. There are milestones for getting through living in a haunted house if you have the Paranormal Stuff Pack or from being possessed via the StrangerVille Game Pack. I love when the various packs work together rather than feeling like disparate elements. It's not the first time The Sims 4 has done this, but I love it every time. And this detail is particularly delightful.
I wish there were even more milestones to discover, but I've already come to enjoy the satisfaction of achieving one after a big moment for my Sims.
Family Dynamics add drama and better autonomy
My biggest gripe when playing with families, especially ones with multiple siblings, is the juggling I inevitably have to do. I'll have mom teach a toddler in one room, but wait, the infant has crawled off and CPS is about to be called because the dad is washing dishes in the bathroom sink again. To be clear, Growing Together doesn't fix most of that. But it does give Sims a little more guidance on how to act with each other when I'm not watching them.
Read More: The Sims 4 Glitch Turns Infants Into Horrifying, Long-Legged Monsters
There's an ease between a father and daughter who have the "Jokester" family dynamic, allowing me to focus on my mother Sim who is desperately trying to get her baby to learn how to move on his own. The Sims also tells you how this can impact relationships. For example, "Jokesters" can become close or distant, depending on how they move beyond those funny interactions—or don't. A child interacting with a parent who's strict with them will be more on their toes in automated interactions, as well.
The family dynamics options include close, distant, supportive, permissive, difficult, strict, and jokesters. These are also limited by family titles. So you can't, for instance, have siblings who have a strict dynamic as that only works with parents and their children.
Relatedly, Sims can now set preferences for personalities and conversation topics, which further adds to better autonomy, though it still isn't perfect, even when hanging out with non-familial Sims.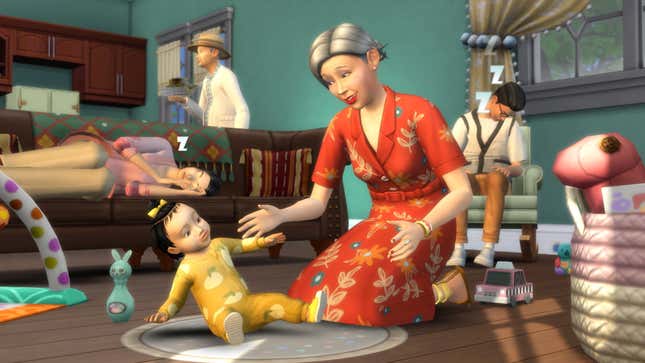 The babies are free and now we must teach them
While a base game update added the infant life stage for all The Sims 4 players, Growing Together is where the babies really come to life. In the base game, they're static. They can crawl around and play, but you won't get to see them build up to crawling. And they won't build up to much else, either. At least, not until they age up into toddlers. For some players, that's likely fine, especially since the previous infant gameplay was nonexistent. But I found it a bit lackluster. In Growing Together, infants will have to be coaxed into lifting their heads on their own for the first time, learn to reach for things, roll over onto their tummies and backs alone, and eventually get to crawling.
The infant progression system works so well because it doesn't feel like a chore. The next milestone is viewable, and the game tells you what to do to achieve it, either through parenting or self-exploration on the child's part. The challenge isn't figuring out what to do, but trying to make a literal baby do what you want. Sometimes your infant Sim will be more focused on when their next meal is coming or will be too tired to do whatever baby education they need to hit the next milestone. Other times, it just takes a couple sessions for your infant Sim to get the hang of things. De-mystifying progression and making the focus on actually doing the things you need to do to achieve these milestones makes the whole experience feel fun and like a normal part of how a virtual family would grow together.
Read More: The Sims 4 Fans Keep Making Uncanny Supermodel Babies After New Update
Growing Together feels like a baby shopping simulator
As with all expansion packs, Growing Together comes with new Create-a-Sim items to dress, accessorize, or customize your Sim. There are also Build/Buy Mode items that bring new furniture, decoration, and structural items for homes. These are all…fine? Much of it is made up of mission design pieces, which to The Sims' credit makes sense as the style's origins come from San Francisco. Yet, nothing particularly wowed me. And while I didn't expect a ton of new home things beyond baby and family items to really play around with in Build Mode, I would have liked some more fashionable pieces in the Create-a-Sim additions. It feels focused solely on adding infant and toddler items as well as their body details: We got lots of birthmarks and freckles (like, so many freckles), but the clothing items feel like they fit in too well with the options we already have, rather than offering a cohesive refresh.
---
In all, Growing Together already feels like an essential pack for anyone who enjoys the story-telling side of The Sims. Its biggest flaw may lie in being too essential as it feels like it gatekeeps key gameplay elements like infant progression and milestones behind a paywall rather than offering a taste of such details to base game players, which could then be expanded upon in the paid expansion pack.
Still, that's not enough to dissuade me from recommending the Growing Together Expansion Pack, and it certainly doesn't take away from its merits.
The Growing Together Expansion Pack is on sale now for $40.