The Steam Deck is a super cool device…even if it does run a little hot. It plays an extraordinary number of games officially, can get a nice amount of unsupported games running unofficially, it's very repairable and moddable, and it can even double as a portable desktop PC.
The Top 10 Most-Played Games On Steam Deck: June 2023 Edition
Speaking of mods, since Valve released CAD files that document the Steam Deck's physical dimensions, it's easy to create replacement housings for it. That's where Jsaux, a company whose name might sound quite familiar to you if you've been keeping up on Steam Deck products, comes in with a suite of colorful, transparent rear shells for Valve's micro PC. I recently played around with a few of Jsaux's custom backplates, and while it's a very cool resource for DIYers comfortable with diving into the Deck's expensive innards, it's not a great solution for people purely interested in changing up the color of their Deck.
Read More: The Best Steam Deck Games In 2023 To Take With You Anywhere
But first, a note of caution: If you don't consider yourself a DIYer who's plenty comfortable with cracking open a device that costs hundreds of dollars and feeling okay with some rough edges, hold off a bit before acquiring one of these snazzy backplates.
Yes, they do really look nice, the vivid colors giving a nice touch to the Steam Deck whether or not you pair them with the matching front Jsaux faceplates (those are outside the scope of this review, and a far more complicated install). But the reality is you can compromise the structural integrity of your Deck while attempting to install one of these, which means that it ain't for the faint of heart.
But it sure is fun.
Installation is mostly straightforward
Installing a Jsaux backplate wasn't my first Steam Deck modding rodeo. In fact, I was rather looking forward to getting a replacement shell, as using a somewhat inappropriate opening tool in my previous Steam Deck disassembly project kinda scuffed up the system's edges.
Read More: The Highs (And Lows) Of Taking Apart My Steam Deck
And I can tell you, having now opened the Deck a second time, it was far, far easier than that first cracking of the seal. That tells me that Valve's warning that you could compromise the Deck's physical stability by opening it wasn't just FUD. Using Jsaux's provided pry tool, the rear shell popped off way, way more easily than before. Within moments I was in, much less painfully than before. I think Jsaux's tool was better, but I felt my Deck was just more loosey-goosey now, too.
Read More: 12 Things Every New Steam Deck Owner Should Try
With the OG shell off, it was time to get to work replacing it. But what color? Jsaux provided me with a choice of red, blue, black, clear, purple, and green. It was a tough call, as all these backplates sure are pretty. All are transparent and, upon first impressions, of seemingly solid build quality. After some deliberation and soliciting of opinions, I went with a classic transparent purple as a nice throwback to my long-lost Game Boy Color.
Each shell comes with a nice mini kit of tools and supplies you'll be hanging onto long after your installation:
Various replacement screws
A surprisingly decent Jsaux-branded precision metal screwdriver with a replaceable bit
Two different styles of replacement rear buttons
Finger condoms
And no, I'm not joking about that last point. Look at these things!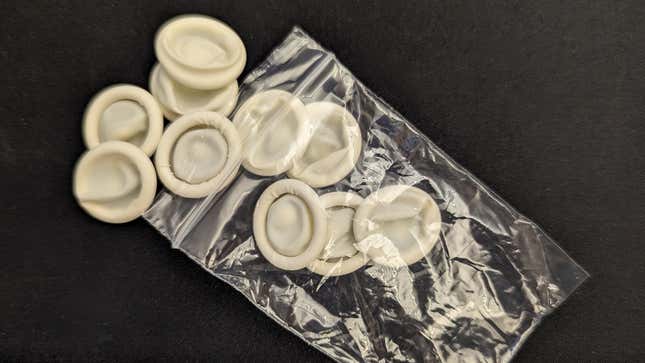 These (rubber?) things are literally what my high school health teacher showed off once when discussing…um…stuff. Okay, stop thinking those thoughts now and focus on nerd shit. But if you're wondering if I used these things to install the backplate? No. No I didn't.
On my first installation of the purple Jsaux replacement backplate, I made sure to remove the plastic film above the silicon thermal pad that transfers heat from the Deck's internal heatspreader to the aluminum plate on the rear of the replacement shell (more on that fucking thing in a sec), snapped the new shell into place, and screwed it in. I decided not to go with the replacement rear buttons yet, using only the ones that come installed on the Jsaux shell and are essentially clones of a stock rear shell's.
First impressions with the purple Jsaux shell on were…mostly positive. To start: It looks great, and the feel of the plastic is excellent. As a child of the '90s I will never, ever, ever, ever get tired of transparent plastics on electronics.
But then I started really getting a sense of the hand feel (without the condoms) and, you know, it ain't a perfect fit. Other Steam Deck hackers have felt similarly: These third-party backplates don't perfectly connect to the rest of the shell, leaving noticeable seams. You'll feel some edges for sure. The fit was, I'd estimate, 90 percent okay with the transparent purple.
To test the Jsaux product further, I then installed the green shell, and the area around the right trigger felt a little worse, with it almost bordering on irritating as it scratched against my finger. Whether this was a result of slight variations in the mold or a result of not snapping it into place perfectly right (I refitted it three times to no avail), I'm not entirely sure, but that first instance of discomfort drives home a key truth about the Jsaux Steam Deck backplate replacements: Third-party parts like these will likely diminish the premium feel of a fresh-out-of-the-box Deck.
If I decide to keep using the green shell in the future, I might try gently sanding the edge near the right trigger to make it a little less palpable.
The new aluminum plate kinda sucks
The most frustrating element of Jsaux's rear shells, however, comes in their aluminum plate and the thermal pad which sits between that plate and the Steam Deck's internals. These should, in theory—and some research has shown it to actually make a small, maybe meaningful difference— help the Deck stay a bit cooler.
If you've played the Steam Deck, you know this thing likes to get hot, and quick. The Jsaux rear plate alters two elements of the Deck that aren't ideal. One is the smell. I noticed the Steam Deck's signature fragrance changed after installing the new plastic backplate. Second, and more importantly, the Jsaux's aluminum plate, which sits right above where the Deck's OEM heatspreader, can cause real problems.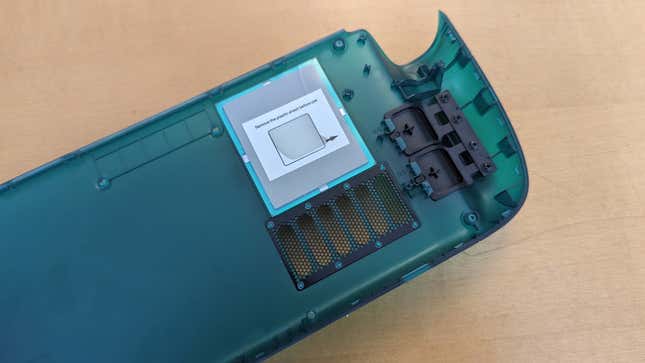 Namely, the Jsaux backplate gets painfully hot in an area that the original rear shell simply never does no matter what game you're trying to play. It surprised me at first. The aluminum plate is totally exposed, easily touched by your fingers. While it won't necessarily give you first-degree burns, touching the rear aluminum plate while the Deck's been running a game (even for a short amount of time) will slowly grow painful.
Read More: Baldur's Gate 3: How Does It Run On Steam Deck?
While pain can be a good time (with or without the finger condoms) this dramatically changed how I held the Steam Deck. No longer could I rest it on my lap while wearing shorts (or even pants, to be honest). And if I ever decided to hold the Deck with just my right hand, extending my fingers toward the center of the device's rear shell to provide just a touch more support, it was a matter of a time before I entered pain city. The pain was most notable during transit, when I'd typically hold the Deck with one hand while getting up from the train seat.
While this never happened to me, it would not surprise me if someone's reaction to this unexpected heat could result in them dropping the Deck—and that's even more problematic when you consider that installing this thing does make the Deck more vulnerable to fall damage (an extra d6, at least).
Luckily, you can mod the mod, so to speak, by removing the Jsaux thermal pad to prevent heat transfer from the Deck's processor to the exposed piece of metal on the Jsaux backplate. The Deck's rear still feels a little warmer when you do this, but it's no longer painful to the touch. Therefore, I recommend you remove the Jsaux backplate's silicon thermal pad before installation. (If you were to remove the aluminum plate entirely, you'd just have a big hole in the rear shell, which is very unideal.) Doing this seems safe enough; I didn't observe any overheating or higher-than-OEM temps after removing the thermal pad.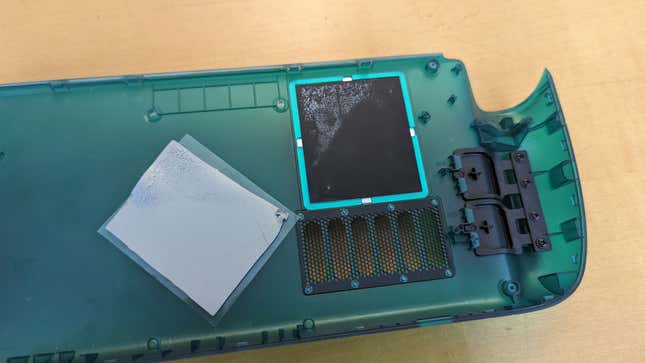 The pad peels right off mostly in one piece, though you'll need a bit of alcohol to wipe away the remaining residue.
Jsaux's colored backplates are most ideal for experienced modders
I'll talk about the replacement buttons in a second (tl;dr, they're actually a neat addition), but when we add up the quirks so far—compromised structural integrity, a non-perfect fit, and the hot aluminum plate demanding removal of the thermal pad—I think it's clear that the Jsaux replacement shells are really most suitable for people who are happy to crack open and tinker with devices, even at the cost of getting an imperfect experience.
Don't get me wrong: The colors are sick. I sincerely hope Valve, if it's listening, will consider doing future Deck runs in transparent colors, because I love the way this thing looks on my Deck, even if it's only on the back. In fact, I like its look so much that I'm keeping it installed for now. And those replacement rear buttons are pretty neat.
The replacement rear buttons are a solid win, though
I was skeptical of these replacement buttons at first. The Jsaux replacement shell comes with two different button variants that make the rear buttons jut out from the surface of the Deck more than the OEM controls.
Read More: The Steam Deck's Funky Controls Prove That Gamepads Are Outdated
And that works really well. I went with the thickest variant and fired up Halo (are you surprised?) and immediately I felt more encouraged to use the rear buttons than I had previously. They're easy to install and it doesn't interfere too much with the OEM Steam Deck case.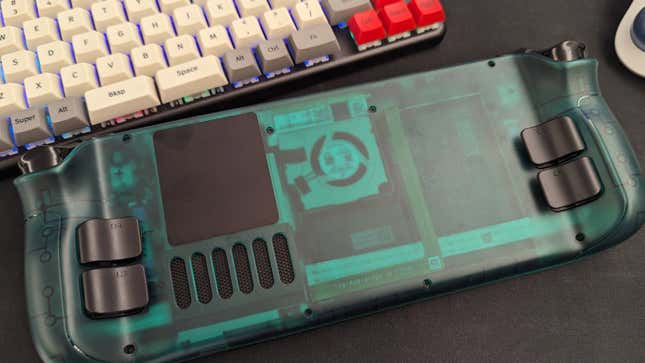 I do have one mild worry. With the new buttons installed and the Steam Deck zipped up in its carrying case, if I squeeze the top and bottom of the case, I can hear the rear buttons click. It's hard to say whether this is a point of concern, and I feel like I wouldn't want to stick a button-modded Deck in a packed bag where there's going to be some pressure on the device. The new rear buttons are mostly compatible with the Deck's original case, but I'd prefer a more spacious storage case for a long-term solution.
Great for modders, not so much for civilians
If you're just looking to spice up your Deck's visual style, I would recommend something like a vinyl skin or stylized, close-fitting case over actually cracking your machine open and using the Jsaux rear replacement shells.
The colors may be sweet as hell, and those replacement buttons are really neat, but it's simply not worth risking the wellbeing of a perfectly healthy unmodded Steam Deck, or dealing with that silly aluminum plate that makes the system's back half a potentially painful hot spot.
That said, if you're like me and are okay with some DIY repairs, or perhaps even have some wilder ambitions for NSFW Steam Deck mods, the Jsaux replacement shells might be worth checking out. They sure look nice, and their buttons are pretty good, too.