Adin Ross, one of Twitch's top broadcasters with over seven million followers, has been banned from the livestreaming platform for the eighth time. This time, it appears to be permanent following a string of incidents he's engaged in on rival streaming platform Kick, including pulling up porn for his largely young audience. Ross has since responded to the permaban, saying Twitch did it for "no reason."
Ross is a big name in the streaming space. Having started on YouTube in August 2014 as a Grand Theft Auto and NBA 2K content creator, he eventually moved his growing audience to Twitch, where he continued to play both games while also expanding into the platform's popular Just Chatting category. He's since had guest appearances from rappers like Lil Uzi Vert and Tory Lanez (who was convicted of assault in December 2022) as Ross courted controversy after controversy, with the most prominent being the gambling streams he did in 2021 before the activity was banned on Twitch. Ross has now signed an exclusive deal with livestreaming newcomer Kick, but not before a series of disconcerting activity on the Tyler "Trainwreckstv" Niknam-backed platform that might've led to the ban.
Adin Ross ditches Twitch for Kick
Kick is brand new to the livestreaming space. Endorsed by gambling streamer Trainwrecks with investment from crypto casino site Stake, the livestream platform seeks to be an aggressive competitor to Twitch and YouTube Live with its 95-to-5 percent revenue split, making it the best place for creators to get their bags. On top of this increase in profits for streamers, Kick also has looser Terms of Service, meaning folks can get away with more stuff. One example is streamer Heelmike getting a blowjob on the platform to some 27,000 live viewers, only to receive a one-day ban from Kick. Another example that pertains to Ross: he reportedly streamed the entire Super Bowl on Kick to 105,000 viewers, an action that could lead to a lawsuit since the NFL owns the copyright.
That's not all Ross has done on Kick before signing the deal to exclusively stream on the platform on February 23. He's had friends on the phone who repeatedly said the n-word with no shame, his chat has filled up with hate messages and swastikas, and had other friends show their butts on stream. But maybe his biggest offense, and the one that appears to violate Kick's somewhat lenient Terms of Service, is him scrubbing through Pornhub in front of his alleged teenage audience. To say that Kick is the new wild west of livestreaming is a total understatement.
G/O Media may get a commission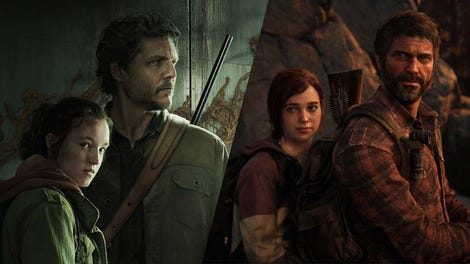 10% off
The Last of Us Part 1 (PC Steam Key)
Watch the show, play the game
If you're intrigued by the new show starring Pedro Pascal as Joel and Bella Ramsey as Ellie, consider picking up the source. The 2013 survival horror game recently got a full-on remake for the PS5 with The Last of Us Part 1 and now it's coming to PC as well. You can pre-order the Steam version of the game for 10% off from most Green Man Gaming which is set to release on March 28.
Adin Ross finds himself in hot water with Twitch
In a video posted to Twitter by watchdog Jake Lucky, Ross, after asking his chat what everyone wanted to watch, pulled up porn. It was censored, but you can see the Pornhub logo on the top left before it's hidden by Ross' screen. "I don't support porn," Ross said to his over 85,000 live viewers at the time. "I don't support this shit. I don't condone it. I don't support it." He then wondered how old everyone in the chat was, to which folks responded with ages varying from seven to 88. Some were obvious jokes, like a few saying they were 30 days old, but most appear to be between adolescence and early-to-mid adulthood. It wasn't long after this—the hate messages in the chat, his friends saying the n-word, the porn—that Twitch indefinitely banned Ross.
Ross has since responded to the permaban in a February 26 livestream on Kick (which was then reuploaded to his YouTube channel). While he said he was banned for "no reason," Ross speculated why it happened. One of his theories: a rumored Neo-Nazi "national hate Jew day," which was reportedly taking place on February 25, the same day Twitch permabanned Ross. He shared several other theories, which revealed his belief that Twitch is a "full liberal platform" and that he is likely on the outs due to being a straight cis man. Ross then started to rant about the platform.
Adin Live
"Listen, I got permanently banned on Twitch. It's done, it's already done," Ross said. "But I got permanently banned for no reason at all. How do you ban someone on Twitch and my reasoning is for VODs/on-stream, when I haven't even been streaming there? This is exactly why everyone needs to see Twitch for what it is. It's full of corrupted, pure corrupted Karens and they're pick-and-choose-me. And unless you're a certain person with certain beliefs [Twitch doesn't] fuck with you."
Kotaku reached out to Kick and Ross for comment.
In a brief email exchange with Kotaku, a Twitch spokesperson said that "per our Community Guidelines, unmoderated Hateful Conduct in chat, such as racist and anti-semitic messages, is not allowed on Twitch."
Digging further into Twitch's Community Guidelines and Terms of Service, particularly as they relate to off-service conduct, the platform makes it clear that any activity violating the platform's policies, even if it takes place outside of Twitch, can result in "an indefinite suspension." This includes "deadly violence and violent extremism," as well as "sexual exploitation of children, such as child grooming and solicitation/distribution of underage sexual materials." While nothing in the platform's policies explicitly states that streaming porn away from Twitch is a bannable offense, knowing that the platform expressly prohibits users from "broadcasting, uploading, soliciting, offering, and linking to pornographic or sexually explicit content" may be one of the reasons for Ross receiving this eighth—and seemingly permanent—ban on Twitch. That, and his hate-filled chat on stream.
In the time since his permaban, Ross has descended into a rabbit hole of right-wing talking points. In recent times he's parroted right-wing copypasta against trans people, streamed antisemitic content, asked Trainwrecks about getting Nazi sympathizer and white supremacist Nick Fuentes onto Kick, and has attacked Twitch relentlessly. Though Ross has apologized for streaming porn, things aren't looking too good for the once-popular Twitch streamer.