James Kaposztas, the man behind the world's first-ever AMV (anime music video), has passed away.
Kaposztas' passing was confirmed in a Tweet on Sunday by Anime.com Inc. publisher and co-founder, Michael Pinto. According to Anime News Network, Kaposzas created his first AMV by hooking up two VCRs together to sync scenes from the sci-fi anime Space Battleship Yamato with The Beatles' song "All You Need Is Love" back in 1982 when he was a 21-year-old college student. Kaposztas would later upload footage of his first AMV, and four other AMVs, to his YouTube channel. In life, Kaposztas was a staffer at Otakon, one of the world's largest anime and video game conventions, for 22 years, according to his LinkedIn profile.
Kaposztas
"Beloved by friends, Jim played a key role in supporting early anime fandom events in NYC and Philly, was an early cosplayer who dressed as Captain Avatar from Star Blazers, and would later be involved with Otakon," Pinto wrote in a Tweet. "What made me proud of Jim was that he took his love of anime and turned it into a professional career as a video editor for over two decades."
AMV DocuSeries
AMVs Forever
The art of making AMVs has come a long way since Kaposztas first crafted his own back in 1982. Instead of using footage from a VCR recording and timing it with the tunes of a popular recording artist, anime fans of today upload their AMVs on YouTube or TikTok in high quality. Sometimes, modem AMVs are even rendered at 60 or 120 frames per second thanks to video software like Adobe Premiere Pro.
While the methods of contemporary AMVs have leaped bounds beyond Kaposztas' inventive means of hooking up two video cassette recorders together, the spirit of why people create them remains the same: making a cool video that encapsulates why you enjoy an anime and sharing that adoration with the world.
"Being a communications major at the time [making AMVs] seemed [like] a way to share my hobby, as well as getting practice in editing," Kaposztas said in a 2007 interview with The Japan Times (made viewable via the Wayback machine).
G/O Media may get a commission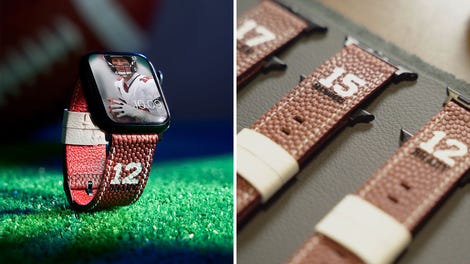 Official NFL PRODUCTS
Official NFL Apple Watch Bands
Touchdown!
MobyFox has partnered with the NFL Players Association to bring mega fans a series of hand-crafted Apple Watch bands crafted from authentic football leather. Choose from bands featuring Tom Brady, Patrick Mahomes, Mac Jones, Justin Fields, Josh Allen, and Dak Prescott.
In the spirit of Kaposztas, I'm going to share some of my favorite anime AMVs below from Neon Genesis Evangelion, Akira, and Attack on Titan, and I encourage you all to share some of yours as well.
Gainax / New Line Cinema / camhcom
NotGorz
Tokyo Movie Shinsha / Icebrrrg Slim
Fortiche / Riot Games / Netflix / Mappa