<!–[if !mso]> st1:*{behavior:url(#ieooui) } <![endif]–>
Being completely allergic to stores, and the people in them, BlackOUT Friday started as a way to NOT go shopping on the day after Thanksgiving.
This year I am proud to announce that the tradition of not shopping, and sitting in a (strip) mall bar instead, will continue at The Good Life Bar and Grill (TGL) promptly at 11:00 AM on Friday.
Here's what I had to say about TGL in my column earlier this year in the Omaha World-Herald…The Good Life Sports Bar and Grill.
Come get your free HitThatDive shirt tomorrow. While supplies last!
Show up with a pack of Camel (non-filters) or wearing a cowboy hat and I, Scuba Steve, will buy your first drink and give you a HitThatDive t-shirt to proudly add to your collection!
But, what exactly are the origins of BlackOUT Friday? And, how does someone properly celebrate it…let me explain.
Origins:
Thanksgiving of 1991, my college roommate (Smitty) and I (one year removed from college graduation) remained woefully unemployed.
To kill time over that year, we would meet every Friday at 11:00 a.m. at various bars and order the same thing…beer and wings.
(Keep in mind that this weekly habit led to the end of Smitty's 10 month marriage to his high school girlfriend.)
I too had recently ended a four year relationship with my college girlfriend…which meant that neither Smitty or I (being newly single and hopefully unemployed) were feeling very festive for the upcoming holidays.
We decided that even though it was the Friday after Thanksgiving we should stick with our routine at the local "mall bar"
The Ground Round
…they had pretty good wings and 22 ounce draft beers.
And we thought, "what the hell", let's see if we can find some Christmas spirit and hit the mall after a few beers and see what all the crazy people were up to. In order to not look like complete degenerates, we enlisted one of our more upstanding friends (Chic) to join us. To this day, Chic IS still married to his high school sweetheart.
Not the original
We had some wings, a few too many beers, walked around the mall, made fun of people that we knew there and eventually went home. It was an amusing way to kill an afternoon and all agreed to do it again the following year.
1992:
I had moved out of the Pittsburgh-area, as had Chic,
so word got around town that we would all be at our same bar stools as the year before at The Ground Round the day after Thanksgiving.
A few more friends decided to join us, so it turned into more of a reunion than anything else, ultimately we decided to skip the mall and spend the afternoon drinking with friends.
Smokes anyone?
1993-1996: The new "rule" for the day after Thanksgiving was that you were not allowed to coordinate meeting at the mall bar. It was a word-of-mouth invitation and either you showed up or you didn't. During these next five years, a few things happened:
We seemed to get progressively drunker every year;
More people started to "attend" our yearly ritual;
Shots became part of the tradition;
They put a bar IN the mall
Up until the opening of the mall bar (Ruby Tuesday), we would get fairly buzzed throughout the afternoon and call it a day.
But, the draw of a bar in the mall just seemed to be too much for the group to pass up.
Oh, we still drank the same amount at the first bar, which meant our decision-making once we took seats at the bar IN the mall were more than slightly impaired.
1997:
We all took our same spots in the Ground Round, at this point the bartender already was expecting us, but there seemed to be an extra ounce of tomfoolery in the air.
By the time we hit the mall bar, we were all pretty ripped and hell-bent on shots once we got to the mall.
Being their busiest day of the year, I have to assume that the management of Ruby Tuesday were not very thrilled to have a bunch of drunk rowdies in the place chasing off the customers that were there for a quiet lunch.
How do I know that? I believe we were asked to leave several times…which we promptly ignored. Somehow we befriended an honest-to-goodness cowboy that we referred, oddly enough, only as "Cowboy".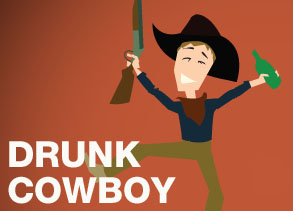 3-2-1 RUN!
We decided that, since it was the start of the holiday season, we should join in the spirit of giving. Not wanting to actually go shopping, we decided to buy a few packs of Camel (non-filters) from the vending machine and hand them out to all the mothers and daughters that were eating lunch.
Who would have guessed that not a single one of them thanked us? It was evident that we would be forcibly removed from a Ruby Tuesday at 4:00 p.m.on a Friday (has that ever happened before?) so we promised the bartender we would leave after a few more rounds (and this time we mean it).
As we get ready to leave, Cowboy asks us "where to next?" To say Cowboy was a bit creepy is an understatement.
It was then that a group of us huddled up and decided we had to "lose" Cowboy.
Those in attendance might remember it differently, but what I recall is on the count of three we all scattered as fast as we could in different directions throughout the mall.
Things get a little fuzzy from there, but I do remember Cowboy being much harder to lose than my drunken brain had anticipated. All I really remember about the rest of the day:
Not sure how I got home
Stopping at someone's house because they had a beermeister
Smitty out cold in a car
"Falling asleep" and coming to just in time to watch Pete Gonzalez of Pitt beat West Virginia in the "Backyard Brawl". Of note…this game is no longer even played.
The gift that keeps giving
1998: Mrs. HitThatDive caught wind of a few of the stories from the year before and implemented a new system. Everyone who attended this year was given 6 drink coupons for a program that she would administer. One coupon handed to her allowed you to purchase one beer, and handing her two coupons allowed you to purchase a shot.
They were non-transferable, and once the coupons were all gone, she would drive us home. Safe to say, the day did not end with a group of us drunkenly sprinting through a crowded mall to escape from Cowboy.

1999-present: I haven't been in the Pittsburgh-area for Thanksgiving since 1998, but to this day the tradition of BlackOUT Friday proudly has continued in Northern Virginia and now for more than decade right here in Nebraska!
Whether in Pizzeria Uno inVirginia, the now defunct Draft House in Omaha, or even Jerry's Bar in Benson…I have lived up to my word more than two decades ago that no matter where I am, I'll be seated in a bar at 11:00 a.m. on the day after Thanksgiving to have a beer(s) and toast all the friends from over the years that I wish were sitting there with me.

Now…who wants some shots at The Good Life Bar and Grill. I'm buying!