Omaha Fashion Week's Fall 2023 season of fashion and new beginnings continued with an energetic show of Emerging and Featured designers. This season's designers draw inspiration from alternate realities and cultural heritage while exploring themes of nostalgia and environmentalism.
Omaha Fashion Week celebrates 15 years of runway showcases during the AURORA Fall 2023 season. Auora is Latin for "dawn" in honor of Omaha Fashion Week now looking towards the future. The atmosphere of the night embraced the greenery of nature and organic structures, which served as a beautiful backdrop for guests to take photos.
Our backstage Beauty Alliance run by SOHO Hair Academy, using REF Stockholm hair care products supplied by Ignite Beauty Supply. They've been absolutely killing the hair and makeup game!
Photography | PoloMutt
Guests arrived at the Omaha Design Center and rushed to take photos by FotoFunSpot on the Milan Laser Red Carpet, and enjoyed music from DJ Angie Spence.
VIP Guests were greeted by valet, posed on the Milan Laser Red Carpet, then found their premium seats along the Omaha Fashion Week Runway. Thanks to Allure Health & Med Spa, every guest was a VIP and received valet parking and complimentary hors d'oeuvres.
Headliner Buf Reynolds, one of the original Omaha Fashion Week designers from our first show in 2008, opened the show. This season she showcased a collection of corsetry, using details like contrast stitching to emulate hands on the body.
Sarah Fili of KETV hosted our show with grace and attitude. She was styled by the bubbly and savvy, Maddie Graham aka The Frugal Fox, with clothing her sustainably sourced secondhand and vintage finds.
The runway show continued with our Emerging Designers. A collection from Il Viaggio brought us to the beach of our dreams with flirty swimstyles. S.Nicole by Shabeba showcased glowing gowns with incredibly intricate beading. A return to youthful chaos came from Manic Kandii, followed by color and playful energy from 4MOORE. House of Pamela Renee had models strutting with confidence in chic tailored ensembles. Jam Jar Clothing closed our first half with "The Orange Juice Collection", which brought so much joy to the Milan Laser Runway.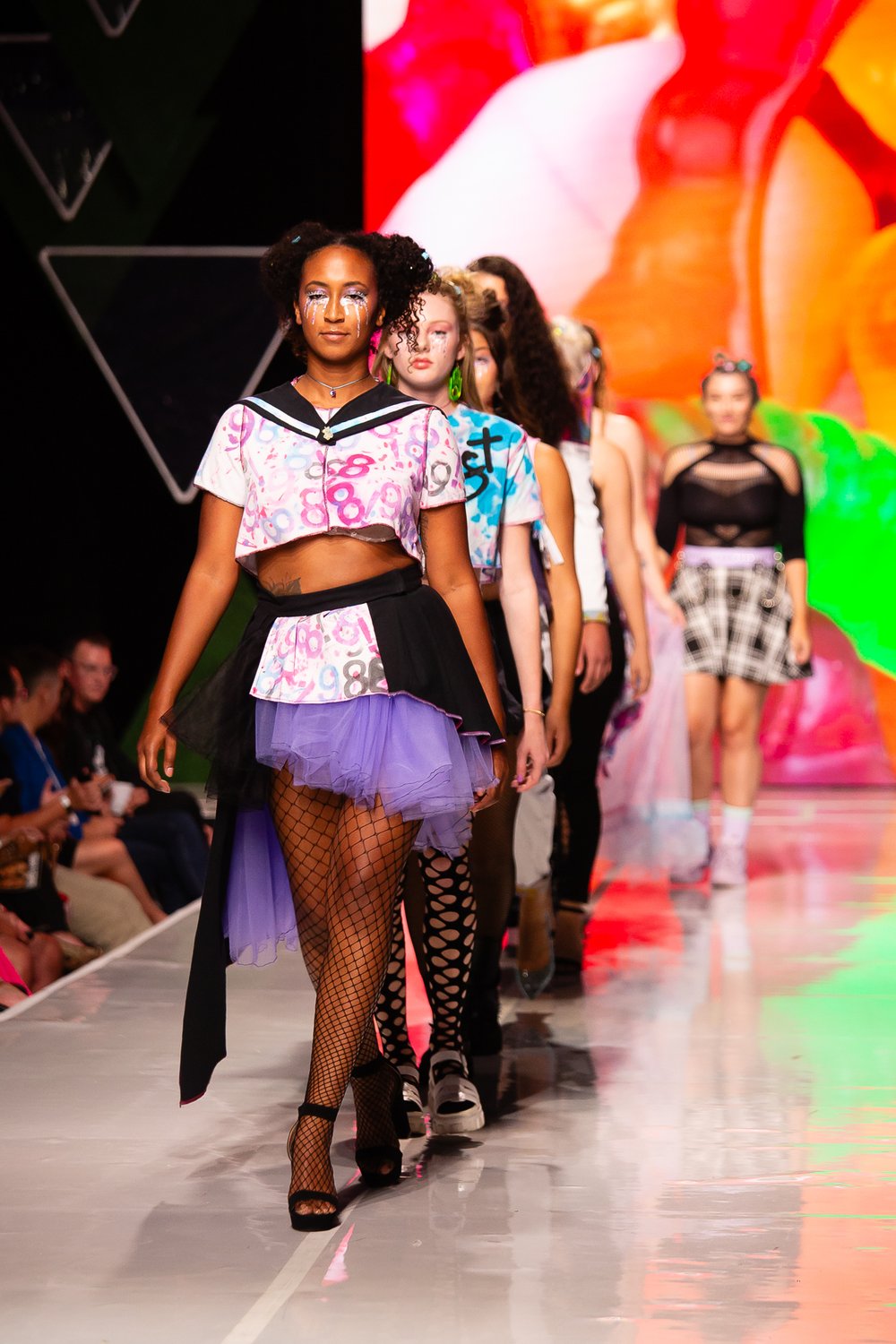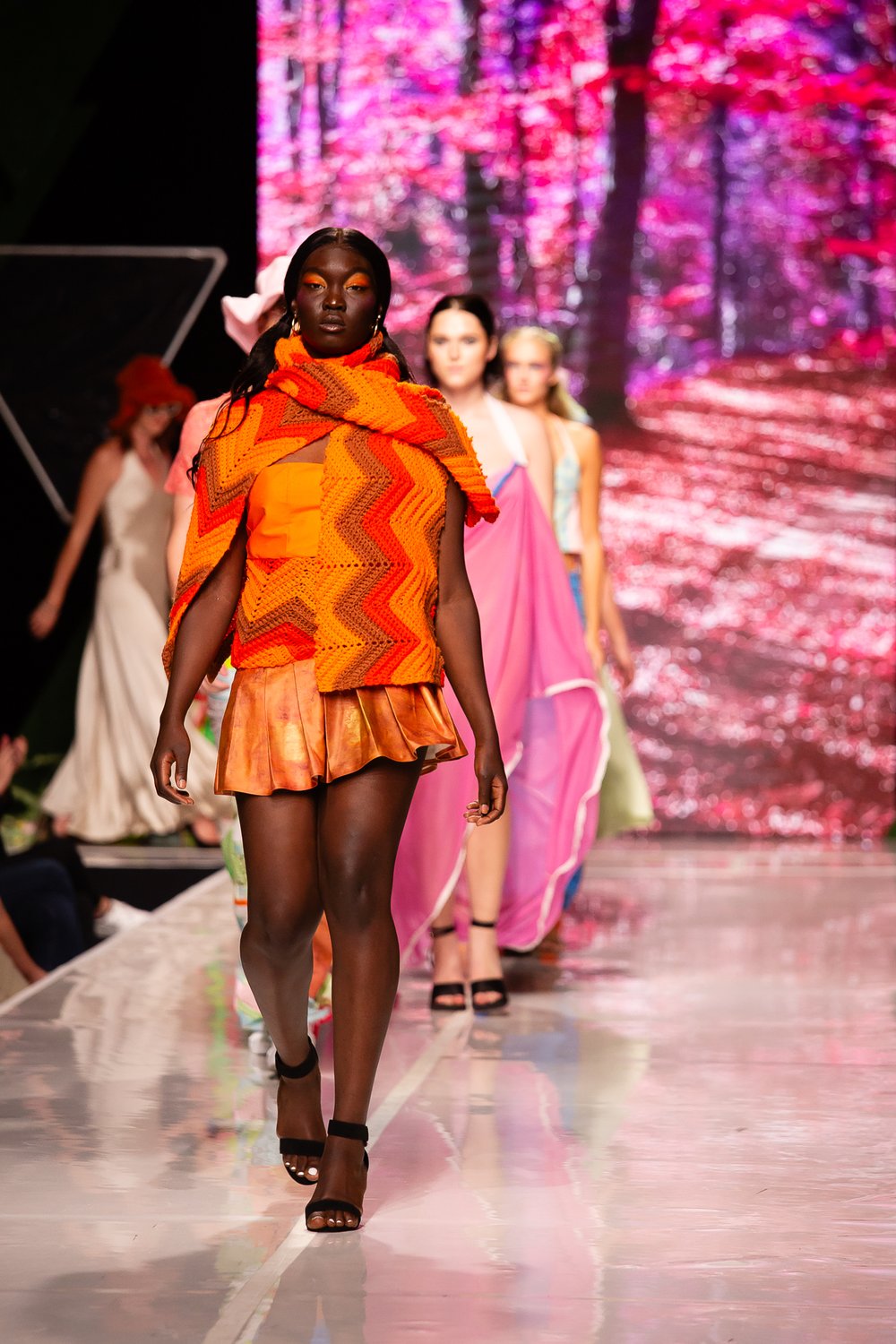 During intermission, house music kept the energy up and attendees enjoyed looking through their Omaha FASHION Magazine.
Lights dimmed and guests awaited the next segment of collections starting with Headliner, J.H. & Son's Clothier, which featured bespoke tailoring and classic looks for men.
The show continued with our Featured Designers, starting with an ethereal display of sheer fabrics and handmade knits from The Badassarie Workshop. Then, Potapenko + Yanchenko used wedding gowns as a vehicle to show the drawings of children in Ukraine, their message was, "Stop the War". Lauren Bander followed with an incredibly detailed collection with a dark feminine vibe. Next, we witnessed a haunting prairie-core line from Chessna Von Abstrakt. SKYE|AIRE flooded the Milan Laser Runway with avant-garde and highly structured pieces that wowed the audience. MalekR. showed off a collection focused on knits and his signature handbags.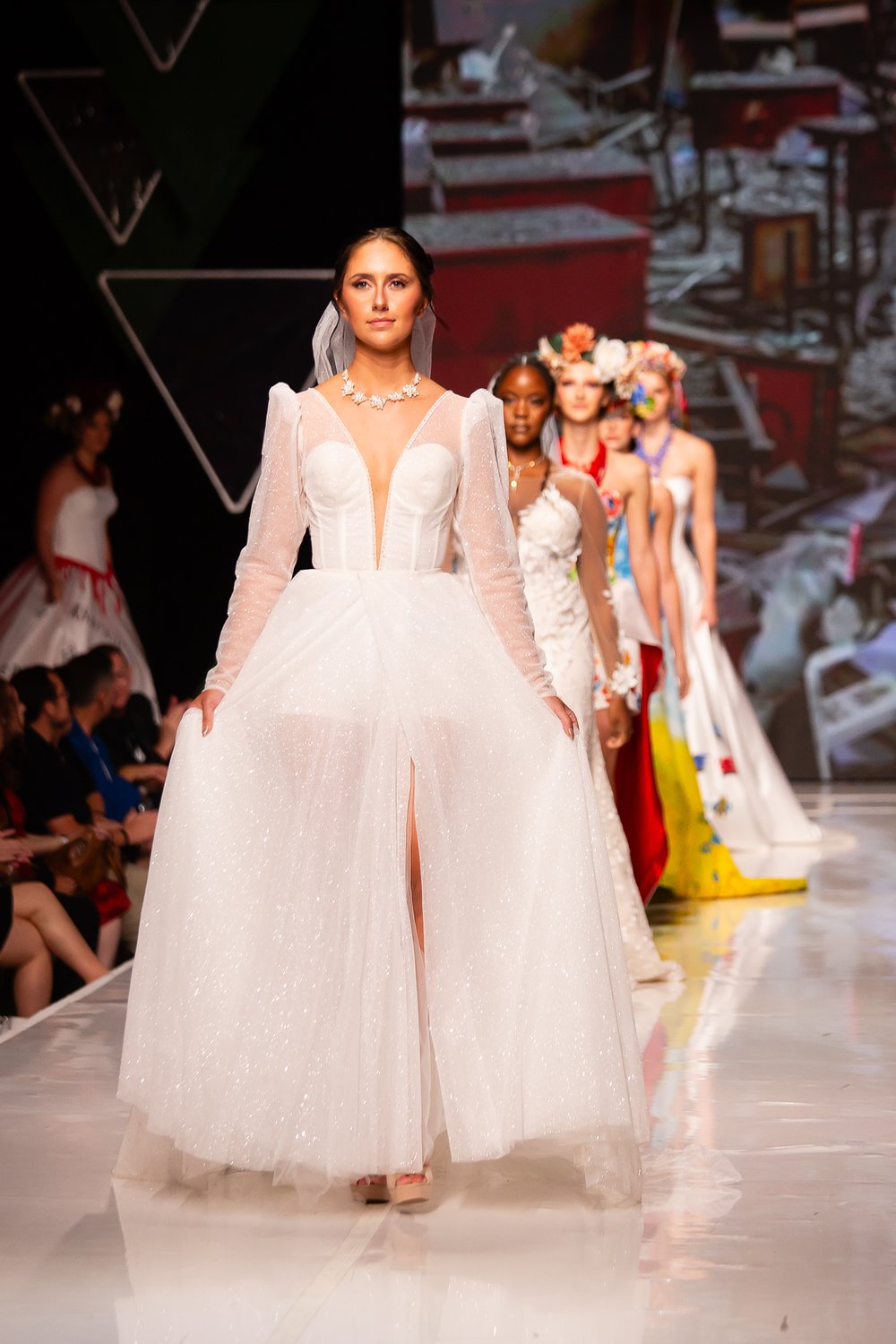 To close our night, Fall 2023 Golden Sheers Award Winner, Britney Spangenberg presented a collection of knotted elements as visual interest, intentionally using fabrics to create depth and textures.
We also gave the Sabrina Jones Spirit Award to the incomparable Buf Reynolds, "The Fairy Godmother of Fashion". You simply cannot think about fashion in Omaha without thinking of Buf. Her contributions over the last 20+ years are unfathomable. There is noone more deserving than her to win this award. Congratulations to Buf Reynolds, WE LOVE YOU!!!
We can't believe there's only one night of Omaha Fashion Week Fall 2023 AURORA Season left! See you along the Milan Laser Runway!
---
Runway | Heather and Jameson

Omaha Fashion Week Red Carpet | FotoFunSpot
tonight: our sold out FUTURE designer showcase presented by Medical Solutions!