Thursday, September 15, 2022 2:00 PM

by Noelle Agenor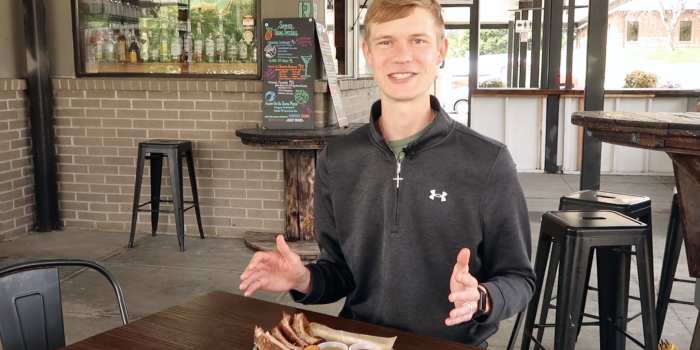 Food trucks are in the spotlight this year and experiencing them in one place just got easier in Omaha.
Local restaurants have taken their businesses on wheels around the city–on corners of parks, tucked into events, and even at local markets. But how do you enjoy these trucks without having to track them down? Trucks & Taps is the answer. Owners Kevin Wyatt and Isaiah Renner decided it was time to take the hassle out of dining out with groups. T&T's picnic-style concept houses 3-4 resident trucks at a time, a rotating roster of guest trucks, as well as an indoor tap wall highlighting local brews and cocktails.
Helping us eat our way through this delicious adventure is local foodie/influencer Dan Hoppen. In the age of touchless concepts and innovative dining experiences, Dan takes local owners under his wing by giving them a voice on the locally loved "Restaurant Hoppen" podcast. Hoppen's official foodie review included fare from favorites like Three Kids Lobster, family size gluten-free chicken sandwiches at Burning Bridges, and slow smoked ribs from Big Green Q. Watch below for his official review.
Enjoyed Dan's journey through Trucks & Taps? Check out more on Omaha's food scene here.
Comments